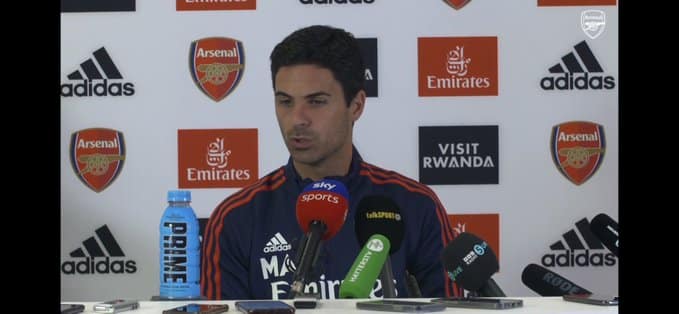 Mikel Arteta faced the media on the eve of the new season to talk about a number of topics, including his anticipation for the 2022–2023 Premier League season.

The manager was questioned on the degree of anticipation for the upcoming season, the most recent team news, the selection of Martin Odegaard as the team's permanent captain, and whether he plans to make any other changes in the transfer market.
"I think we are all enthusiastic, Arteta replied when asked about his anticipation for the new season.
"We had the pre-season that we wanted, it was well organised, we had good results, good performances, good preparation, but now the ball starts to roll to tomorrow evening in a completely different context against a Premier League team and we know what to expect there.
"But it's true, we are with a level of energy and ambition to have a successful season and we have to show that on the pitch tomorrow night.
He explained his readiness and that of his players ahead of the new season and the challenges ahead.

"It's great that people are excited. But there is a big excitement across the Premier League because a lot of clubs have done a lot of business, getting stronger and stronger.
"The competition is really big, we focus on what we can do, what we want to do and we want to be at the top of the table.
He was asked about the pressure he could face returning the club to the Champions League at the end of the season.

"Watching the pressure that I had last year after one game I don't think it's going to be bigger than that!
"At the end of the day people don't want to look at the context, they just look at the result and how we started.
"We are going to be judged on whether we win football matches or not, it's as simple as that.
On Martin Odegaard as the new captain, Arteta said the player represents the value of the club.

"This season we had the opportunity to do it in the way that I believe could work.
"Martin has been with us for 18 months, and in my opinion is a player who represents the values of this football club in the perfect way. He's wel"l