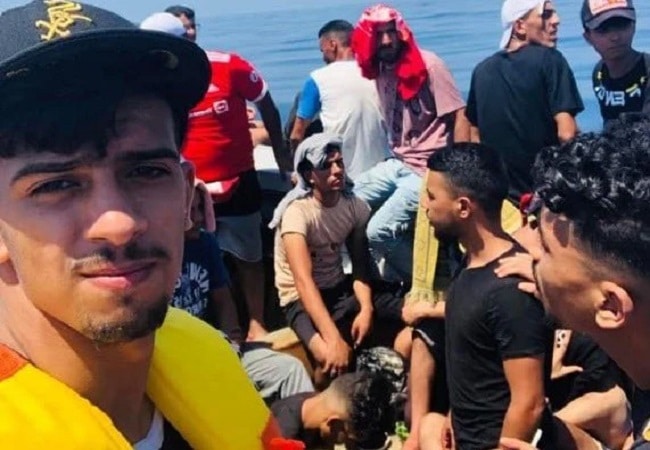 Mohamed Ali Chelbi, a young goalkeeper from the Tunisian team CS Sfaxien, decided to migrate to Europe. And the goalkeeper chose a migrant boat with other migrants and cross the Mediterranean to reach Italy.
Chelbi announced the news by posting a selfie on social media while onboard one of the many boats leaving Tunisia and headed for Italy in early August.
The news shook his team's fans and led to debate on social media over the reasons behind Chelbi's decision.
"I chose to emigrate clandestinely due to injustice I suffered in Tunisia. I asked for a visa and was denied it. I have received offers of work in Italy. And now, I am in a reception center." The young goalkeeper told local radio station Mosaique FM, which contacted him in Italy.
"We are in shock and I would have liked for Chelbi to talk to me about his problems." The same radio station was told by Moez Triki, CS Sfaxien coach.
"Chelbi an never sign with another club without our agreement as he is under contract." Triki added.
"I did not know that my son had decided to emigrate illegally. He called me on Friday to say that he had arrived in Italy. We tried several times to get a visa, but in vain." Chelbi's father told the radio station, underscoring that his son "was called up for tryouts by four Italian teams."
"My son suffered an incomprehensible injustice at CS Sfaxien and the national team. He was fed up. He does not want to come back to Tunisia. The national team chose goalkeepers in an unfair manner. My son suffered a great deal." Believed his father.
Also Read : VICTOR MOSES BREAKS SILENCE AFTER SUFFERING ACHILLES TENDON INJURY
According to reports, the economic situation in the country makes a lot of people think about their futures. And some players at Chelbi's club have reportedly spent several months waiting for their salaries to be paid.