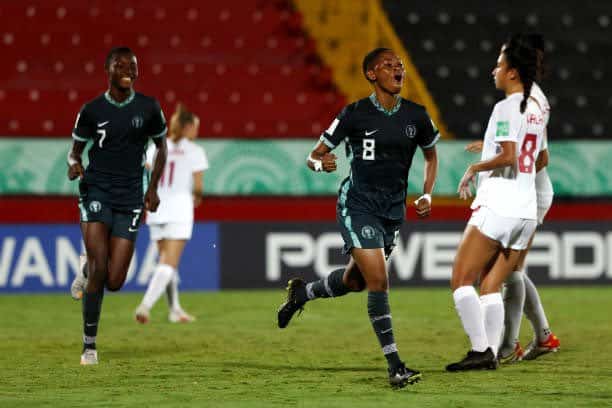 The Falconets of Nigeria, who are competing in the FIFA U-20 Women's World Cup currently taking place in Costa Rica, defeated Canada 3-1 after rallying from a goal down to claim victory and finish first in Group C.
Esther Onyenezide scored twice in the game, both from the penalty spot, and Chioma Olise, a substitute, giving the Falconets their third victory of the competition at 3 a.m. Nigerian time.
The Falconets will now face Group D runners-up Netherlands in the quarterfinals on Sunday after their victory over Canada.
Of the other game in Group C, France defeated South Korea 1-0 to go to the quarterfinals.
France finished group play in second place with six points, nine points behind the Falconets. With three points, South Korea is third, and Canada is last.
The fourth minute saw Canada's Kaila Novak take the lead after Falconets goalkeeper Omini Oyono's errant delivery to her defender was intercepted by Novak's outstretched leg.
Following the early loss, the Falconets seized control of the match and had a golden opportunity to tie the score on minute 15 when Chiamaka Okwuchukwu's header off a cross from Rofiat Imuran nearly missed the goal.
After a Canadian player blocked a goal-bound effort with her hand in the 24th minute, the Falconets' pressure finally paid off when Onyenezide converted from the penalty spot.
After Mercy Idoko was fouled after 32 minutes, Onyenezide again increased the Falconets' lead from the penalty spot.
Idoko had a chance to make it 3-1 three minutes into the seven additional minutes, but the Canadian goalkeeper denied her close-range shot off of a cross.
Deborah Abiodun then launched a long-range shot with a few seconds remaining in the extra time, but the Canadian goalkeeper palmed it over the crossbar.
As they increased their pressure in the final 45 minutes, the Falconets carried on where they left off in the first half.
Onyenezide's long-range left foot strike on minute 56 nearly resulted in a goal for them despite their early strong start, but it was brilliantly saved.
On the hour mark, Okwuchukwu had a fantastic opportunity to increase the Falconets' advantage but she was unable to convert on her header from Onyenezide's cross.
Falconets goalkeeper Oyono was forced into action in the 66th minute as she palmed away a low shot after diving to her left.
Abiodun attempted a left foot curler just outside the area with 10 minutes remaining, but the Canadian goalkeeper was well placed to grab the ball.
Olise scored the third goal in the 91st minute after getting to the back post and converting a low cross from the left by Imuran.