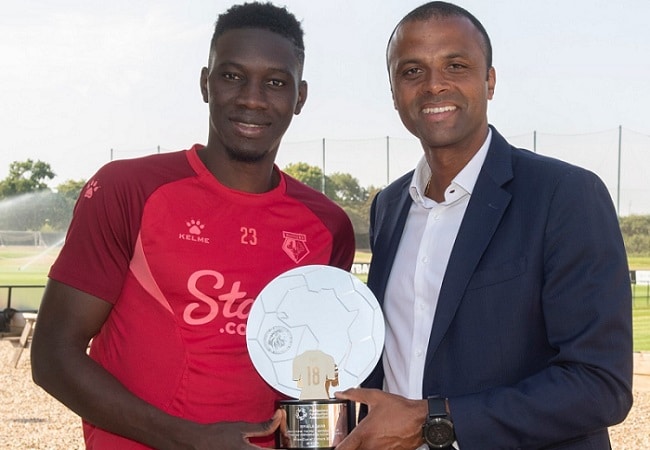 The CEO of the Professional Footballers' Association (PFA) Maheta Molango visited Watford's London Colney training ground to present winger Ismaïla Sarr with a special award.
Molango's action earlier this week was to recognise the Senegalese international Africa Cup of Nations success with his country earlier this year.
Also Read : WATCH HOW BAYERN CELEBRATED SADIO MANE AFTER HIS AFRICAN POY AWARD
Having returned from injury for the knockout stages of the tournament in Cameroon, the 24-year-old played a crucial role en route to the showpiece finale, notching a goal and an assist over the quarter and semi-final stages.
Sarr would go on to play 70 minutes from the right-flank as Senegal won the AFCON final against Egypt on penalties, after the clash had finished 0-0 after extra-time.
"We wish Ismaïla our sincere congratulations on his title as African champions. We are very proud to have you as a PFA member." Molango said expressing his delight at Sarr's achievement.
"On behalf of the PFA we would like to acknowledge your outstanding contribution to football, and in this case to your country Senegal.
"As the Premier League & EFL are very diverse and international competitions, we felt as the PFA that it was very important to acknowledge the importance of the Africa Cup of Nations for a lot of our members." PFA CEO added.
For Sarr, it is a great honour to have been celebrated for his country's continental glory.
"Thank you to the PFA for this award. Winning the AFCON was a very special moment for me and my family. And I am very grateful to the PFA for recognising this." Sarr said on the prize.