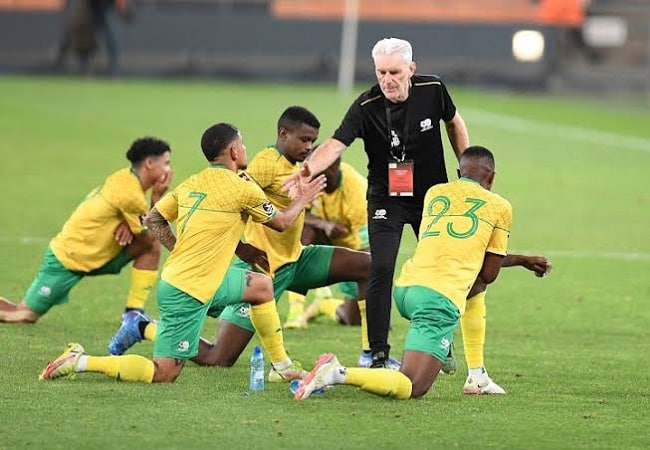 The SA Football Association (Safa) is exploring options to see if it will be possible to revive the popular four nations tournaments Bafana Bafana hosted in the 1990s, perhaps during the Fifa break for the 2022 Qatar World Cup.
Safa CEO Tebogo Motlanthe said Safa is at an advanced stage in discussions for Bafana to meet Egypt in a one-off friendly in United Arab Emirates (UAE) in the September Fifa date (19 to 27) that precedes the World Cup.
Teams like Egypt, Ghana, Ivory Coast, Zimbabwe, Zambia and Australia competed in annual four nations friendly tournaments in SA in the mid-1990s, and they served as an excellent building exercise for Clive's Barker's Bafana who won the 1996 Africa Cup of Nations.
Safa CEO Tebogo Motlanthe said he has been in discussions with companies as potential sponsors to try to revive such an event, if not during the month-long Fifa date from November 20 to December 18 coinciding with this year's World Cup then in future.
With South Africa having not qualified for the World Cup, and the Confederation of African Football moving Bafana's 2023 Africa Cup of Nations qualifier against Liberia from August to March, the national team are set for a long period of inactivity.
Also Read : CAF PRESIDENT PATRICE MOTSEPE CONFIRMS AFCON 2023 POSTPONEMENT
This makes it crucial Safa move on organising friendly opponents for this year's remaining Fifa dates. The World Cup presents opportunities due to global leagues being shut down and opposition being available either from qualified teams seeking warm-ups or other sides who have not qualified looking to remain active.
"We are engaging a number of commercial entities to say, 'Can't we revive that, can't we have a three or four nations [competition]?" Motlanthe said of the potential of such a tournament being held in SA during the World Cup.
"It's not something we're just looking for just because of this [World Cup] break. We're saying why don't we reintroduce it?
"I'm talking to some companies — if we are fortunate to get one then we will revive that."
Motlanthe said Safa is "still talking" to Egypt to confirm the friendly in UAE.
"But it's safe to say we are going to use all the Fifa windows. We have not qualified [for the World Cup] and the leagues will all not be playing.
"So if the coach [Hugo Broos] wants a camp we'll give a camp, [or matches against] countries who have not qualified.
"March is just round the corner. And we need to prepare [for Liberia]. So the coach will give me his programme and we'll ensure we follow it."
Motlanthe said Fifa allows friendly matches to be played during a World Cup. Bafana coach Broos has asked for top-class friendly opposition so his young team can gain crucial top-level experience.
Motlanthe said Broos needs to confirm the kind of opposition he would prefer if Safa arrange friendlies in November and December.
"The World Cup does present opportunities with teams looking for preparation matches. But the coach needs to give me a programme so I can go out looking for those [types of teams].
"He may profile and say, 'Initially I'd said I want to play in Europe but does that assist me ahead of playing Liberia?'"
Also Read : HUGO BROOS CONFIDENT BAFANA BAFANA COULD STILL MAKE IT THROUGH AFTER DEFEAT AGAINST MOROCCO
Bafana are in Group K, which has been reduced to three teams by Zimbabwe's expulsion, of the Nations Cup qualifiers and began with a 1-0 defeat to Morocco away in June.