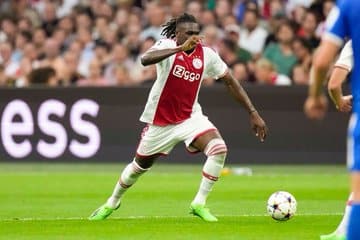 Calvin Bassey, a defender for Ajax, is happy with the Eredivisie winners' victory over Rangers in their UEFA Champions League matchup on Wednesday night.
At Amsterdam Arena, Ajax trounced the Gers 4-0.
Edson Alvarez, Steven Berghuis, and Mohammed Kudus all scored goals for the Eredivisie Champions, who were up 3-0 at the break.
Bassey in an interview with BT Sport admitted having a weird feeling playing against his former team.
"I didn't think I could just message them like that tonight," Bassey said.
"I'll give them a day. It just depends on how they are . I haven't seen them for a while.
"Obviously, I'm buzzing on one side but (on the other) I can't explain it, it's a weird feeling.
"When I'm not playing against the (Rangers) boys I wish them the best and I'm always rooting for them to win .
"But being on the pitch against them, I just had to switch that focus because now I'm here. I've got to give 100% and I'm just pleased to get the win .
"I wouldn't say it was easy for us. I just think we executed what the manager wanted from us right at times .
"There's still work to be done for us to get better but we're pleased with the performance .
"We just need to keep working on."
For Ajax this season, Bassey has one assist in five appearances across all competitions.
The following Champions League match between Ajax and Liverpool will take place on September 13.