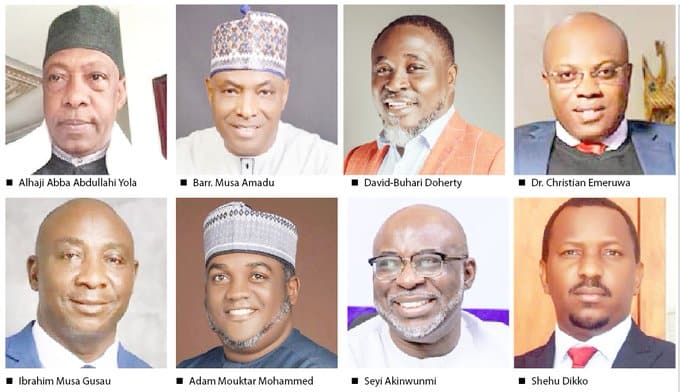 Gusau, Kwande, Amadu, Emeruwa, Akinwunmi, and five others have been permitted to run for president of the Nigeria Football Federation, NFF.
Eleven individuals have been approved by the NFF Electoral Committee to run for NFF President in the Federation's elections, which are planned for September 30 in Benin.
Three candidates—Chief Felix Anyansi-Agwu, a current board member; Senator Obinna Ogba, also a current board member; and Mr. Chinedu Okoye—will compete for the position of first vice president.
Alhaji Yusuf Ahmed "Fresh," a current board member, was the sole one to get the paperwork and receive approval for the Chairman of Chairmen job.
Alhaji Mohammed Alkali, a resident of Nasarawa State, and Rt. Hon. Benue State's Margaret Icheen; Hon. Mr. Benedict Akwuegbu, Mr. Daniel Amokachi, and Mr. Idris Abdullahi Musa, all of Kwara State (Plateau State).
The South South region's Aisha Falode is at the top of the list, followed by Barr, Chief Kenneth Nwaomucha (Delta), Mr. Gregory Abang (Cross River), Mr. Roland Abu Omomoh (Edo), and Mr. Gregory Abang. Mr. Jarret Tenebe (Edo), Poubeni Ogun (Bayelsa), and Rt. Hon. Essien Udofot (Akwa) is additionally competing for seats in that area.
Alhaji Ganiyu Majekodunmi, a current member of the board, is at the top of the list of candidates vying for seats in the South West, followed by Otunba Sunday Dele-Ajayi (Ondo State), Alhaji Olawale Gafar Liameed (Lagos State), Mr. Afolabi Taiwo Olugbenga (Osun State), and Mr. Afolabi Taiwo Olug
Mr. Ayodeji Adegbenro (Ondo State) and Barr. Pelumi Jacob Olajengbesi also in the race. Mr. Ayodeji Ogunjobi (Osun State) was disqualified for not providing evidence of tax payment.
Alhaji Babagana Kalli (Borno State), an existing board member, and Barr are the candidates from the North East.
The single candidate from the North West is Alhaji Sharif Rabiu Inuwa (Kano State), who is currently a member of the board, along with Sajo Mohammed (Adamawa State) and Mr. Timothy Henman Magaji (Taraba State).