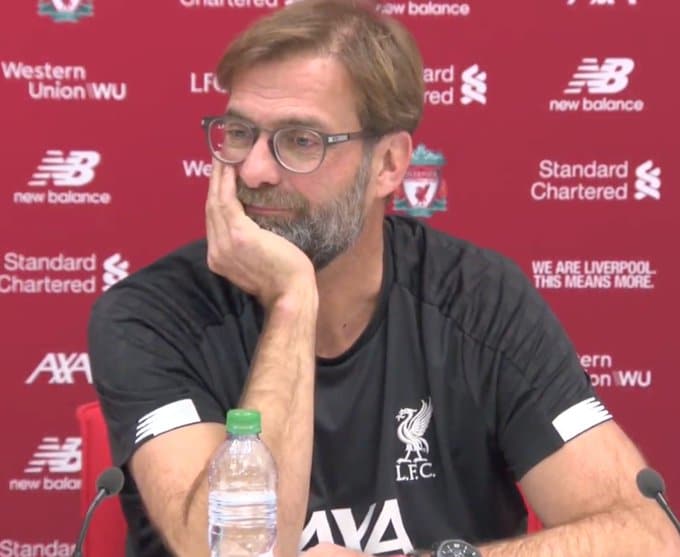 The 3-3 draw between Liverpool and Brighton & Hove Albion on Saturday prompted Jürgen Klopp to promise that his team will keep striving and trying to regain their best form.
At Anfield, Roberto Firmino scored twice and Adam Webster scored an own goal to help the Reds rally from two goals down to take the lead 3-2 shortly after the hour mark.
However, Leandro Trossard, who had already scored twice inside the opening 18 minutes, finished off his hat-trick in the dying moments to guarantee the visitors' point.
In his post-game press conference, Klopp discussed the outcome and Liverpool's season-long performance.
According to the German strategist, the result of the game was;
"To be 100 per cent honest, it is not the first time that we saw a similar situation.
"Maybe the amount of situations we saw was a bit different, where the ball was kicked high and different situations, but that's a sign for something – and the sign is that the confidence level is now not extraordinarily high.
"In our situation, the things you want to have, getting the confidence back, you want to keep it and increase it.
"You want to build on that. It was obvious the first goal especially and then the second goal didn't help in that.
"The set-up of Brighton surprised us because we had no idea what they would do [because] it was clear we could not use situations of Brighton's from the last weeks.
"They had a good set-up before, obviously, with Graham Potter and now with Roberto. He obviously did exactly the right things with them and so it is not new, that happens quite frequently, to be 100 per cent honest.
"Usually you adapt quicker, but before we adapted we were 2-0 down and then we understood better what they did and reacted better on it, kept them on the outside where the gaps were not that open anymore and they could not play each ball through the half-spaces anymore. We fought ourselves back into the game.
"Then, 2-1, 2-2, 3-2 and then you see again – if you have watched football games for long enough here, we had these kind of situations years ago when we were only one goal up and then it happened quite frequently that everybody got nearly a heart attack because we were just not convincing in these moments where we get a counter-attack and be compact and these kind of things.
"That's what reminded me of that a little bit today. So, I cannot say I was 100 per cent convinced we would not concede a goal when we were 3-2 up.