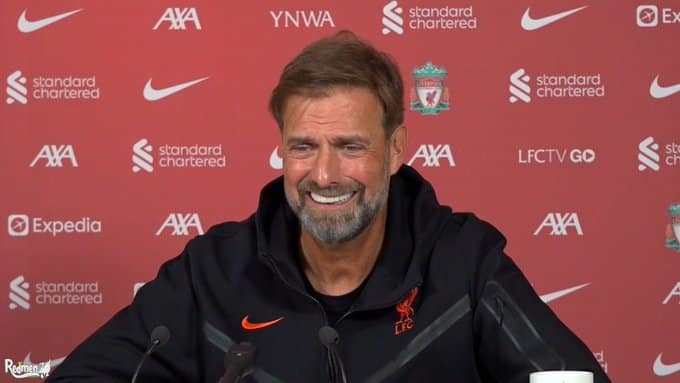 Jurgen Klopp says Liverpool "have to be more unpredictable" to get back to their best and acknowledged low confidence has hit their previously relentless pressing game.
Liverpool come heads into Sunday's clash at Arsenal on the back of only two wins from their last five games, and having kept only two clean sheets in their nine Premier League matches so far.
That has already dropped them 11 points behind the Gunners – who lead the table – at such an early stage, but there were crumbs of comfort for Klopp as a change in shape to a 4-4-2 earned a deserved 2-0 win over Rangers in the Champions League in midweek.
"It's important to become unpredictable again," he said ahead of the trip to the Emirates.
"We need different systems for that as well, and so [4-3-3] is not the only system we can play.
"With a 4-4-2, is it 4-3-3, is it 4-5-1, is it 4-2-3-1, we don't want to make it more complicated but there are obviously more systems available for us and we have to choose now which is the best for us to face the next opponent.
"When you spot a problem, and you think about it, you want the solution instantly to click. Immediately.
"We are still in progress to find a way out, that's how it is.
"You can't say we were in a dark place and now we're back, we need consistency, and for that we need to defend the rubbish out of everybody, pretty much.
"I'm not interested in short-term diagnosis, that was good, that was bad, we have to be good until we are outstanding.
"I know, Arsenal and Rangers away and then Man City – what can I say, yes we are through the tunnel and I can see the light, but we have to perform.
"But we do have to be more unpredictable, definitely. Teams have worked out how to play against us when we are not at our best.
"They've known how to play against us for years, but it didn't work out because we were exceptional in the things we did, so the moment you are not exceptional it looks like they've only realised – but in our best games, I could show you the parts where we could've had problems, but we didn't because we put so much pressure on the opposition.
"These gaps are still there, but when we don't play at our top, they play the pass through and it looks like they have figured us out. There is no system in the world with no weakness."
In the midst of their recent slump, Liverpool's once-lauded pressing style has come under fire, with Sky Sports' Paul Merson attributing their disjointed defense to Sadio Mane's absence from his usual energy.
Klopp acknowledged that their current situation was partly due to a lack of confidence.
"The way we defend, you need to be brave," he said. "The way our full-backs defend – we put them onto the full-backs of other teams, win the ball back high, people think it's great.
However, they pass it past our full-back who is obviously not in their place when we arrive late.
Many people have claimed that we cannot defend in this manner, yet we have done it in 200 games.
However, if the time is off, if you arrive late to a challenge, there is no challenge.
"Sometimes you have to step aside, or step back, to get that timing right again. We don't talk about what we did last year as 100 per cent and this year is 80 per cent, the players still want it 100 per cent but maybe put in 97 per cent subconsiously.
"All of a sudden, a well-drilled team didn't work together any more.
"Not willingly, but if someone is thinking about whether they should push up and the other players are already there, pressing doesn't work like this.
"You commit to pressing, and you do it.
"You have to commit to a common plan, and it only works if everybody feels the same.
"It might have been a problem with everyone having the same confidence levels to do these kind of things at the same time."