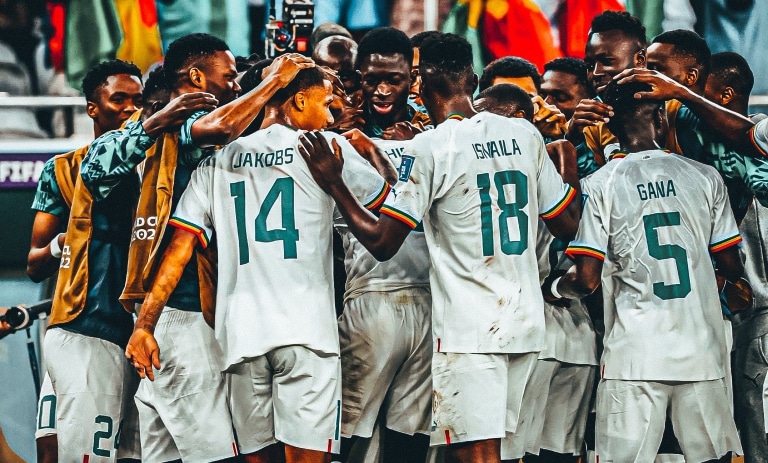 Senegal defeated host nation Qatar 3-1 to become the first African team to claim a victory at the 2022 FIFA World Cup at the Al Thumama Stadium on Friday.
The loss has now left Qatar on the verge of crashing out of the World Cup after they slumped to a 3-1 defeat.
Qatar will be the first team mathematically eliminated from the tournament if Netherlands wins or draws against Ecuador later on Friday. Ecuador defeated Qatar in the tournament's opening game.
While the home crowd wore maroon shirts, many of the men chose to wear the traditional Middle Eastern thobe, a spotless white ankle-length tunic, the Senegal fans contributed color and noise with rhythmic drumming throughout.
Ismaila Sarr's tripping over Akram Afif should have resulted in a penalty kick, but Spanish referee Antonio Mateu waved away their appeals and VAR did not step in. Qatar's opening-night nerves were nowhere to be seen as they quickly got the better of Senegal.
Senegal needed to score to tie the game, but with Qatar's strong defense, it would either take a miraculous play or a disastrous error. Unfortunately for Qatar defender Boualem Khoukhi, the latter occurred.
Krepin Diatta's typical low pass into the box, which was his attempt to clear, went horribly awry when he went to the ground without making adequate contact with the ball.
Dia pounced as Khoukhi's shot failed, and the 26-year-old attacker needed no further encouragement to slam the ball home at the near post to give Senegal the lead.
In the 48th minute, Famara Diedhou extended Senegal's lead with a spectacular glancing header from an Ismail Jakobs corner as the Qatari audience had significantly thinned out at the start of the second half.
The absent home supporters soon returned to their seats, and they were rewarded with some excellent attacking play as the hosts recorded their first shots on goal of the competition. Ismael Mohamad forced Edouard Mendy to make an outstanding reflex save.