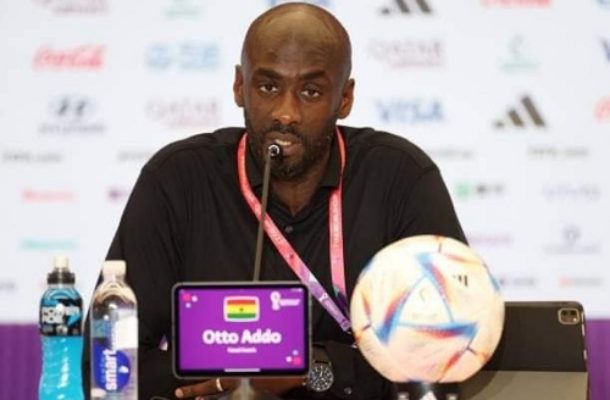 Otto Addo, the Ghana coach, claimed on Monday that he does not frequently consider vengeance ahead of Monday game against Uruguay.
But when the Black Stars play Uruguay in their final Group H match on Friday, a game that could help decide who moves on to the World Cup knockout round, it's almost clear that payback will be on the thoughts of many supporters.
One of Ghana's most traumatic sporting experiences was a difficult and contentious quarterfinal loss to Uruguay, or at the very least, a defeat at the hands of Luis Suarez, at the 2010 South Africa World Cup.
When the Black Stars take the field at Al Janoub Stadium, those memories are sure to resurface.
"It will be very difficult but I am confident to know that we can win this game," said Addo after his men claimed a thrilling 3-2 decision over South Korea.
""I'm not a guy that thinks much of revenge.
"It was really, really long time ago that this incident happened and I am a strong believer if you don't seek too much revenge on these kind of things sometimes you get the blessings."
It may have been a long time ago, but not long enough for many Ghanaians to forget the sight of Suarez using his hands to block Dominic Adiyiah's header, which unquestionably would have been the game-winning extra-time goal.
Suarez received a red card for the foul, but Ghana's sorrow did not end there. Asamoah Gyan missed the ensuing penalty, and the Black Stars ultimately lost the shootout 4-2.
Addo emphasized that this time, not only his team and strategy, but also the Uruguayan team as a whole, will be radically different.
"It is a different approach, a different team," said Addo.
"They have very good strikers, lots of experience and they are a very compact, very good team.
"It will be very difficult just like every match.
"We said before the tournament started every game will be on edge, and we have to be at our best to beat them."
The Ghanaian head coach led his team to their first FIFA 2022 World Cup victory against South Korea after losing by the same margin to Portugal in their opening game.