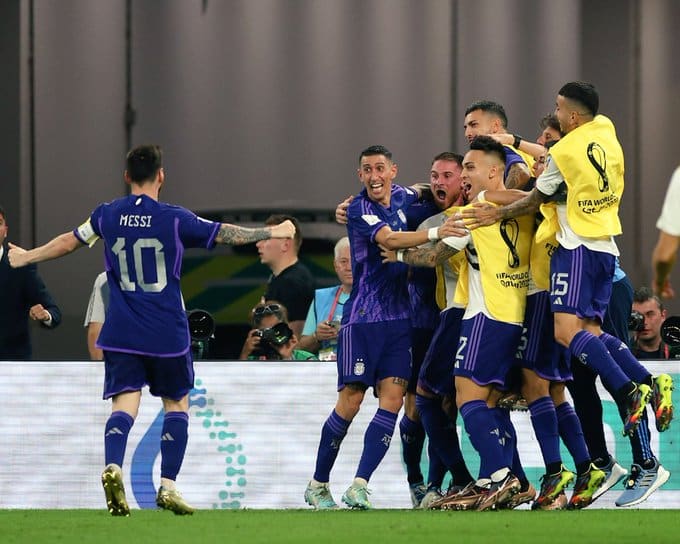 Australia advanced to the round of 16 for just the second time in their history on Wednesday as Lionel Messi's Argentina advanced to the World Cup's final 16 with a 2-0 victory against Poland.
Argentina, a two-time champion, advanced after defeating Poland in Group C thanks to goals from Alexis Mac Allister and Julian Alvarez, and Australia eliminated Denmark with a 1-0 victory in Group D.
In a game when captain Messi missed his 31st career penalty, Argentina, who suffered a shocking loss to Saudi Arabia in their opening match, made sure they advanced as group champions.
Argentina, which will play Australia in the following round, was warned by Messi not to take advancing to the quarterfinals for granted.
Argentina, Poland, Mexico, and Saudi Arabia are the four teams competing in Group C's final round of games, and all four are vying to advance to the round of 16.
Despite Argentina's victory, Poland narrowly edged Mexico, which defeated Saudi Arabia 2-1, for second place on goal differential.
For extended stretches of a suspenseful evening, it appeared that Poland's record of receiving fewer yellow cards would guarantee their participation in the round of 16.
Salem Al-Dawsari of Saudi Arabia scored against Mexico in the fifth minute of stoppage time, giving Poland a narrow advantage on goal differential and a spot in the second round.
The Asian underdogs Saudi Arabia, whose shocking victory over Argentina in the tournament's inaugural match thrilled the opening days, were eliminated after suffering a setback.
The winner of Group D, France, will play Poland in the round of 16.