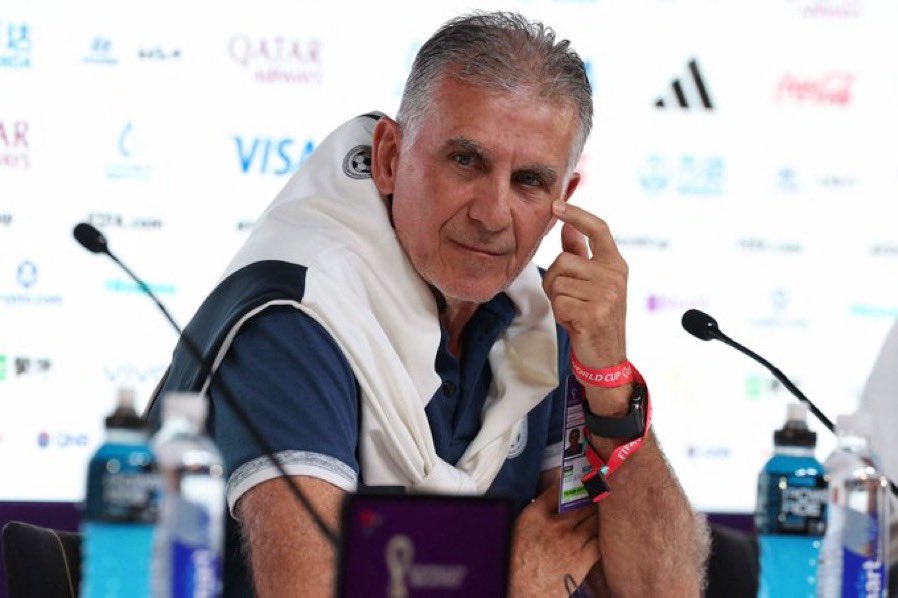 Carlos Queiroz, the head coach of Iran, questioned the "disinformation" regarding threats made against his team and commended them for their efforts despite losing 1-0 to the United States and being ousted from the World Cup.
Iran lost their final Group B match on Tuesday at Al Thumama Stadium thanks to a goal from Christian Pulisic in the first half.
When they declined to sing the national anthem before their opening match in Qatar against England, Iran's players participated in what appeared to be a show of solidarity with anti-government protestors in their own country.
According to human rights organizations, more than 400 people have died as a result of Iran's crackdown on protests, which started after Mahsa Amini, a 22-year-old woman who was imprisoned for refusing to wear the required hijab, passed away in police detention in September.
Reports had claimed that the families of the players would be intimidated if they protested once again, but Queiroz responded firmly in his post-game press conference.
"The world, in the current circumstances, is full of stupidities," he said.
"If you hear from an anonymous source, you convey the information and in the space of two hours, some stupidities become truth.
"It's disinformation, it's a shame but it's the truth.
"We have heard several stories about threats the players received.
"But what I can state is that thanks to their work, thanks to the conversations we had, the players started smiling again and understood who they were playing for, their mission.
"I'm very glad they were able to give a response on the field and give prestige to the shirt."
Iran struggled against the USA in the first half but made a strong effort to equalize late on. Mehdi Taremi insisted that Cameron Carter-Vickers had fouled him in the box as he attempted to get a shot off in stoppage time, though the contact was slight and the penalty appeals were rejected.
But Queiroz was not interested in providing justifications, saying: "I won't speak about [the penalty appeal] for two reasons.
"First, I haven't been able to see it in detail. But I think after the US has gone through to the next round, speaking about that is senseless.
"It reduces the dignity of the game. We have already undergone other decisions in 2014 and 2018 which were more clear and obvious, and life goes on."

Only Scotland (23) has played more games at the tournament, and all of those games came in the first group stage. Iran has now failed to advance past the opening group stage at each of their six World Cup appearances (18 games).
However, Queiroz expressed satisfaction with his players' efforts, adding: "I am very proud and I'm honoured to be a coach of this Iran squad, the players are fantastic.
"I said before that earlier in my career, I coached many teams, and throughout my career, I've never seen players that gave so much and received so little in return.
"They deserve all my respect and admiration. I'm incredibly proud of their efforts in training and in games, wearing the shirt of their country."