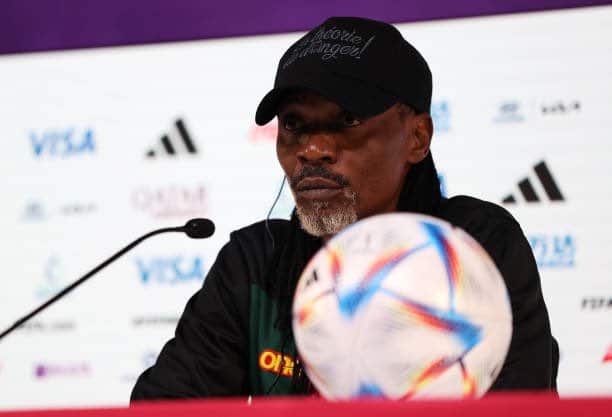 Rigobert Song, the coach of Cameroon, expects a "absolute scorcher" of a game against Brazil on Friday, one that his win-starved team is capable of winning because they had previously defeated the five-time World Cup champions.
Cameroon, which hasn't won at the World Cup since 2002, is level with Serbia on one point after their first two games and must defeat the already-qualified Brazil in Lusail to have a chance of making it to the round of 16.
If Brazil finishes first in Group G, they may play on Monday and will use a different lineup against the African team.
"Cameroon have beaten Brazil before, yes. So it's not completely out there," Song said.
"Obviously, this Brazilian team will be beautiful to me.
"I have so much respect for Brazil, but in football there are realities that are slightly different," Song said.
"Sometimes there is an upset, anything is possible.
"And that is why I am firmly convinced that we are capable.
"Tomorrow (Today) will be a game that will be an absolute scorcher … We've already beaten them and we can beat them again."
Given that Cameroon hasn't made it past the 16 in more than 30 years, it will be a difficult order.
The African team was defeated twice by Brazil at the World Cup in 2010 and 2014, losing every game in their group.
The Confederations Cup in France in 2003 marked Cameroon's lone victory over Brazil in a match.
Song expressed his continued optimism for a "wonderful win."

"We know that it will be no walk in the park for us tomorrow. But it will be a highly exciting game," he said.
"We're ready for the fight. We're ready to give everything we've got."