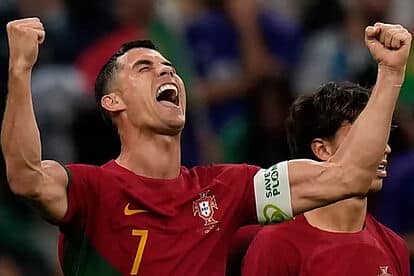 Cristiano Ronaldo knows already where he will be playing from January 1 after terminating his contract with Manchester United days after the World Cup started in Qatar.
The 37-year old is the only free agent in this World Cup, but his situation will not last long as Marca announced the club he join in the winter transfer window.
According to the Spanish outlet, Cristiano Ronaldo will join Saudi Pro League side Al-Nassr on a two and half-year deal from January 1.
Read more : World Cup 2022 Top scorers
Ronaldo who wanted to continue playing European football did not receive interests from top clubs and is likely to join Asia for the first time in his career.
CR7 will be 38 in February and he knows that Al-Nassr could be his last dance on the pitch.
Marca revealed that Cristiano Ronaldo will earn €200m salary per season with the Saudi side which will make him the highest-paid footballer in history.
Kylian Mbappe and Lionel Messi are currently on top of the ranking with the French striker earning €131m at PSG while the Argentine talisman is having a €120m.