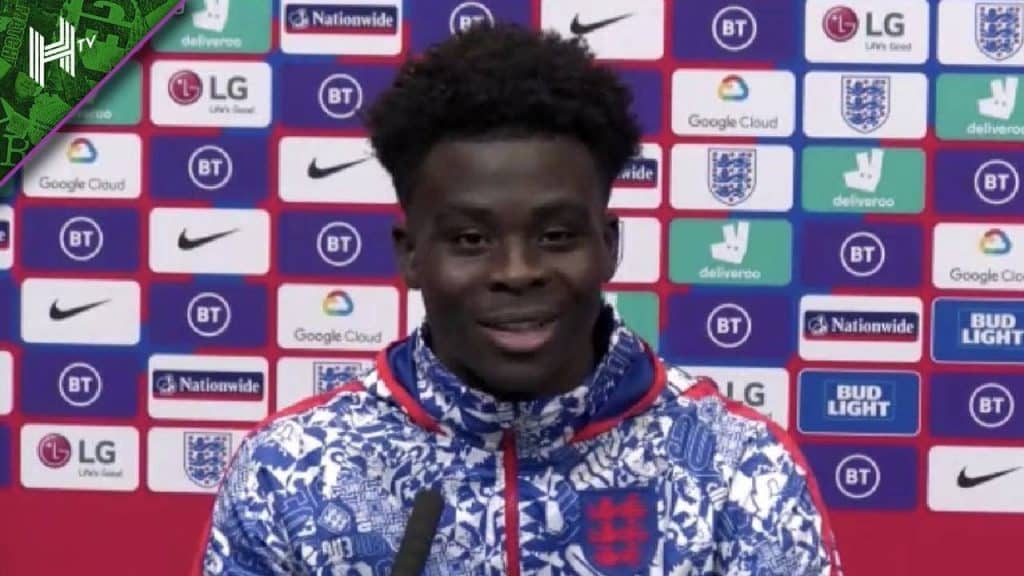 As they get ready to meet the current World Cup champions in a thrilling quarterfinal, Bukayo Saka stated on Monday that England has no cause to feel inferior to France.
France, who are aiming to win the title again, have advanced to the final eight in impressive fashion thanks to Kylian Mbappe's brilliance.
With five goals, Mbappe leads the tournament in scoring, and his lethal play has persuaded many experts to pick France to win the matchup in the round of eight on Saturday at the Al Bayt Stadium.
Even England manager Gareth Southgate admitted that the "acid test" for the Three Lions' title campaign will come from France after his team's 3-0 victory over Senegal in the round of 16.
Although England's striker Saka, who was chosen above Marcus Rashford and scored against Senegal, is sure that his team deserves the same respect as Les Bleus,
"We know the qualities they have but we also know our own qualities.
"We've had three clean sheets and at the same time we've scored the most goals (in the tournament)," Saka told journalists.
"There's a lot of tournament experience now. If you look at the results from the last few tournaments we've been in, we've got to a semifinal and a final.
"So when the big games come, we have a lot of players who know what they need to do.
"We are feeling good right now. Of course, we have to believe we can win the tournament."
There have been suggestions that Southgate deploy a three-man center defense to contain the holders because of the sizzling Mbappe, who gives a powerful France assault its cutting edge.
Saka saw the danger posed by France and said: "There's only one Kylian Mbappe. He's up there with the best players in the world.
"We know the quality he has and we have to be prepared to stop him. But not just him, France have lots of other quality players.
"It will be a really difficult game. We have performed quite well in our first four games. We just have to stay hungry."
However, Saka argued that England, which has scored 12 goals in four games, has accomplished enough at this World Cup to demonstrate that they can challenge France rather than concentrating on stopping them.
"That's no doubt the quality we have in our team. We are blessed with an amazing frontline with so much quality," Saka said.
"I'm not a manager, I'm a player. I have to trust Gareth and his staff to prepare the best game-plan. I don't see us needing to change too much.
"We all back the manager. He has an unbelievable record in these big tournaments. We need to believe in him and stop doubting him."
Despite his disappointment from Euro 2020, Saka is willing to take a penalty if necessary to decide the match in England's first World Cup match against France since 1982.
The Arsenal forward was one of three English players who failed to score in the Euro final shootout loss to Italy.
"Obviously I've matured and progressed a lot as a player and a person since that moment," he said.
"I can never forget it. But coming out here and scoring three goals has lifted me a lot. The love I've received from the fans lifts me as well.
"I wouldn't have taken penalties for Arsenal if I wasn't confident. If the moment comes and I'm selected to take it, I will be more than happy."