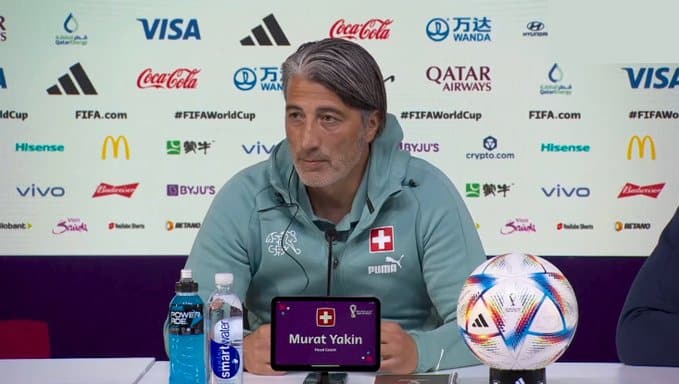 When Switzerland plays Portugal on Tuesday, they will have a chance to go to the World Cup's round of eight for the first time since 1954, but coach Murat Yakin claims that creating history is not on their minds.
Switzerland hasn't advanced past the World Cup quarterfinals since it served as the host country 68 years ago, even though there wasn't a round of 16.
In each of the previous two World Cups, the Swiss were eliminated in the first round, but according to Yakin, the anticipation of playing Portugal should be enough to spur his team on.
"We are aware that we are going into the game with a team that is well-prepared, that is mature," he said.
"Being able to write history will not be decisive for us.
"We know our opponents and have shown that we can beat them. Then maybe we can discuss the history.
"You can't focus on what happened in sport. No one cares what happened anymore.
"Of course, expectations are growing but we fight with the players I have and the opportunities we have."
Yakin stated that his entire team is available for selection but made no mention of who would start the game.
"We are ready. We have a full squad, the players who were missing are back on board. We look forward to the game.
"It's a great opportunity to continue writing history. We are aware of the euphoria in Switzerland and want to give everyone another game."
A week after losing 4-0 in Lisbon, Switzerland defeated Portugal 1-0 in Geneva in the Nations League, but Yakin felt those results don't matter much.
"It's been six months since the last contest and that's a very long time in football.
"We don't know who plays for them, who plays in central defence.
" If we focus too much on the opponent, we lose sight of ourselves," he added.