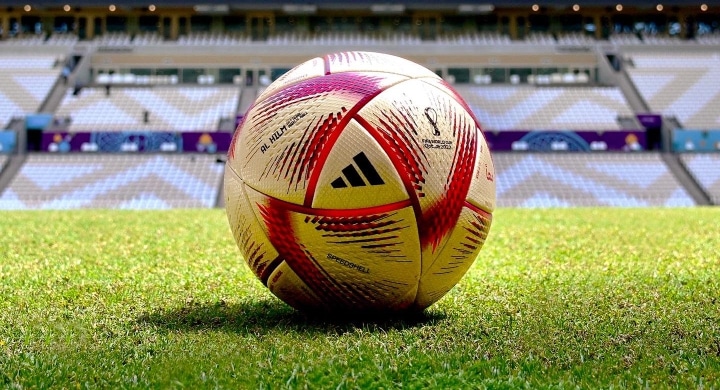 Al Hilm, the official match ball for the Fifa World Cup Qatar 2022 semifinals and championship, was unveiled by adidas on Sunday.
Al Rihla, the official match ball used during the group stages, was replaced by Al Hilm, which means "The Dream" in Arabic.
Since they fly faster than any other World Cup ball, both balls have the same technology that supports the highest game speeds.
Al Hilm incorporates the same "Connected Ball" technology as Al Rihla, utilizing the most recent developments in ball design.
This technology has been invaluable in assisting match officials during this World Cup in making quicker and more accurate decisions.
The innovation provides Video Assistant Referees with quick data that may be used in conjunction with player position information to optimize decision-making for an enjoyable fan experience.
The new technology gives the VAR team an automated offside signal by integrating the ball tracking data collected by sensors inside the ball and using artificial intelligence.
Al Hilm is a completely new panel shape and surface texture from the inside out, developed using data from extensive testing in adidas labs, wind tunnels, and on-pitch. It has these characteristics:
A CTR-CORE – An innovative core within the ball that is tuned to support fast, precise play with maximum shape and air retention
SPEEDSHELL – The ball's polyurethane (PU) skin featuring micro and macro textures and a 20-piece panel shape
Al Hilm has a distinctive graphic style that is inspired by the glittering deserts that surround the city, the color of the Fifa World Cup trophy, and the design of the Qatari flag.
It is set on a textured gold base color and features a subtle triangular pattern.
The image is complemented by strong red accents that both reference Qatar's flag and its architecture.
As it relates to the dark hours, where the crimson sky meets the desert sand, the ball embodies its moniker, Al Hilm, "The Dream," as it symbolizes a period when dreams are about to come true beneath the floodlights of the Lusail Stadium, the venue for the Final.
The ball, which was constructed with water-based adhesive and inks and will be used in the semifinal and championship match of the World Cup, was created with the environment in mind.