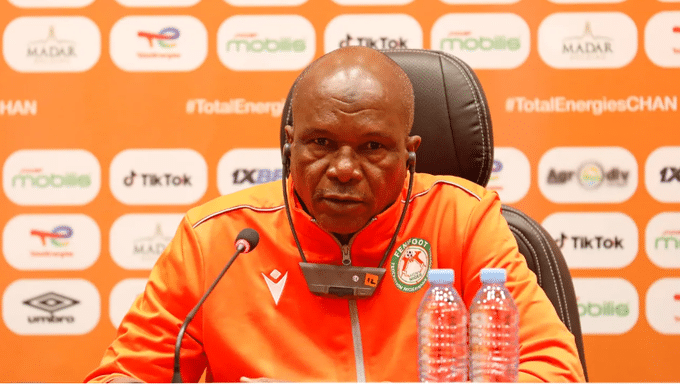 When Harouna Doula, the coach of Niger, steps onto the field against Congo in Menas opening Group E match on Friday, January 20, he will essentially join an elite group of coaches who have been in charge at three TotalEnergies CHAN tournaments.
Doula, who is renowned for his composure and fatherly inclinations when coaching, is obviously thrilled about this new chance to introduce Nigerien football to the globe.
"CHAN is the real competition for African players because it has players that play at home in their championship so for me to be here with Niger again, I am very excited about this opportunity and I am looking forward to our first game," said Doula passionately.
The same collection of opponents will be used for the following edition, but this time, one of the opponents will be a known one.
Doula will compete against Jean Elie Ngoya Obackas, a former classmate from the university they both attended in 2005 while studying abroad in Germany.
"I know my young brother Ngoya. We had the opportunity to attend a training in Germany. I have so much respect for him.
"Tomorrow, we will be playing against each other. He has always considered me as a big brother and it will be an opportunity to show and meet once again like in the old days," said Doula.
Despite the cordial exchange of words between the two coaches, the game will be taken seriously on the field.
Winning would be the ideal way for Niger to start their campaign, but against Congo, they play a team who has already suffered a 1-0 loss to Cameroon and will give it everything they've got in what will be their last chance to advance from the group.
Doula said that, "We spent two weeks in Tunisia playing friendly games and preparing for this tournament.
It might not be the same team that we faced two years ago in Cameroon, but we are ready for this game."
"We want to do our best to win this battle, but we want to achieve the win in order to move to the next stage.
This is the spirit with which we shall be tackling this game before we meet Cameroon. We have prepared the players.
"We rely on how prepared the players are psychologically. We will play in a tactical way, and we will be more organized and efficient as possible," Doula told the media in detail.
Doula, a seasoned and well-respected coach in Niger football, is a guy looking for a new challenge. He is recognized for getting Niger into their first-ever CHAN in 2011 and AFCON in 2012.
He now wants to lead Niger to the final on February 4 in Algiers, but the Menas must first defeat Congo to have a chance.
Boureima Katkore, the captain and center back for Niger, concurred with his coach in saying, "We have prepared very well for this game.
"We know that it will not be easy. We are playing against a team that has already lost a game that will do their best against us and so will we have to be focused throughout the game."
Razak Seyni, who is out with an injury, won't be available for Niger, while reliable striker Boubacar Goumey, who played for ASN Nigelec in the national league and is thus ineligible for CHAN, has signed with a team in Iraq.