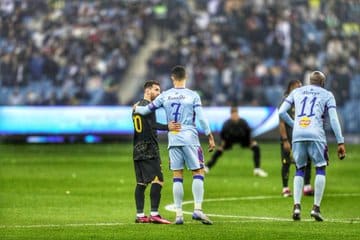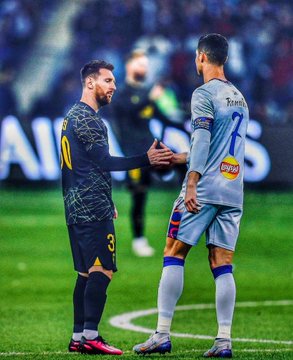 At the King Fahd International Stadium on Thursday, Paris Saint-Germain defeated the Riyadh Season Team 5-4 with two goals from Cristiano Ronaldo and Lionel Messi.
Ronaldo scored twice in his first game after joining Al Nassr of the Saudi Pro League after leaving Manchester United.
Messi, who is now back with PSG after helping Argentina win the World Cup, scored the game's opening goal, but Ronaldo, who plays for Al Nassr and rival team Al Hilal in Riyadh, scored the game's equalizer for the Saudi select team.
During a frantic end to the first half, PSG defender Juan Bernat was sent off, Marquinhos put the French champions 2-1 up, Neymar missed a penalty and Ronaldo scored his second of the evening after his header had rebounded off the post.
After 60 minutes, Ronaldo and Messi were taken off the field, but they remained on the field long enough to see Kylian Mbappe convert a penalty kick to make it 4-3, Ramos give PSG a 3-2 lead, and Saudi Arabia's Jang Hyun-Soo tie the score.
Hugo Ekitike, a PSG substitute, scored once again, and Anderson Talisca added a late goal to make the score 5-4.
It could be the final time Ronaldo and longtime foe Messi share a field together because Ronaldo quit European club football to play in Saudi Arabia.
The two, who have combined to win 12 Ballon d'Or honors, last squared off in the 2020 Champions League match between Juventus and Barcelona.
Following their vacation to the Middle East, PSG is once again engaged in combat with Pays de Cassel in French.
While Ronaldo's debut for Al Nassr was postponed due to a two-match suspension imposed by the English FA for an incident that occurred during his tenure at Old Trafford, he is now scheduled to play for Al Nassr for the first time on Sunday.
PSG made an explosive start to the game while sporting a new black and gold uniform, taking the lead in the third minute due to a precise finish from Messi.
Messi was able to beat Mohamed Al-Owais, who he last met in Saudi Arabia's shocking World Cup victory over Argentina in November, after Neymar played him through on goal.
The Riyadh Season Team had multiple opportunities despite falling down early.
Ronaldo was a constant menace, and when Keylor Navas collided with him in goal, he was awarded a penalty. The impact had left Ronaldo with a large red bruise on his cheek, but he lifted himself up and calmly converted the penalty kick to tie the score.
After the equalizer, Bernat received a red card, but the Ligue 1 team handled losing a man admirably by scoring through defender Marquinhos.
Their advantage would not last long, however Ronaldo tied the score once more just before halftime by thumping home a rebound after Sergio Ramos mishandled a simple clearance.
After the half, the goals kept coming thick and fast as Ramos headed in a Mbappe cross before Jang responded with a near-post header from
Ali Al-handball Bulaihi's awarded the visitors a penalty, which was skillfully converted by Mbappe on the hour. Mbappe's final contribution came shortly after, when he was substituted along with teammates Messi, Neymar, and Ronaldo.
Following a lung-busting run from the halfway line, Ekitike increased PSG's advantage to 5-3 before Anderson Talisca scored for the Saudis in extra time.