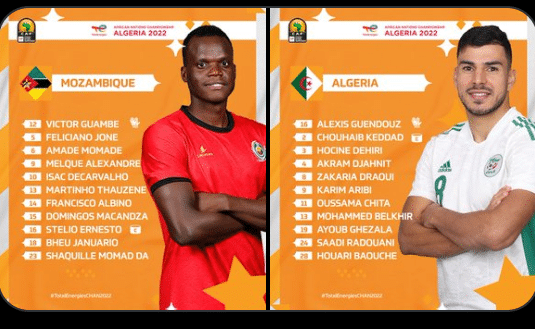 The third round of the African Nations Championship CHAN 2022 will include a match between the teams of Mozambique and Algeria on Saturday at the Nelson Mandela Stadium in Baraki.
Mozambique is ranked second in Group A with four points, while Algeria is in first place with six.
Mozambique's most recent game was a 3:2 home victory against Libya in the African Nations Championship on January 17.
They have gone without a loss in two straight games, winning one and drawing the other. During Mozambique's last 10 matches, playing at home was a game-changer.
Tuesday's match between Algeria and Ethiopia ended with a 1:0 Algerian victory at home.
The team is currently enjoying a run of two straight victories.
In Algeria's most recent ten matches, playing on home soil proved to be less significant than playing on the road, with the hosts winning on six occasions and the visitors winning on three.
How both teams line up
Mozambique Starting XI
Oficial Urrubal

Albino Muchanga

Macandza

Thauzene

Januário

Nangy

Jone

Momade

Alexandre

Ernesto

Filipe de Carvalho

Algeria Starting XI
Guendouz

Ghezala

Dehiri

Baouche

Keddad

Chita

Draoui

Belkhir

Redouani

Djahnit

Aribi