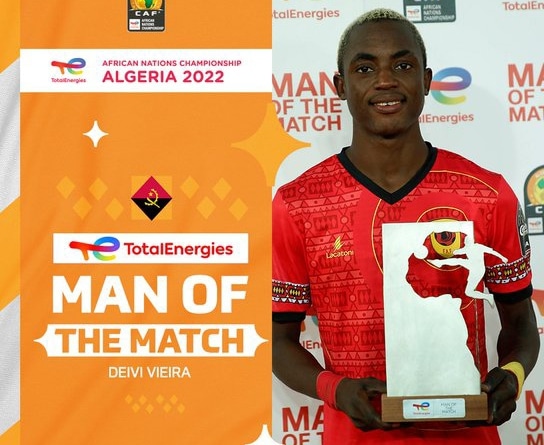 Deivi Miguel "Gilberto" Vieira, an Angolan attacker, considers his victory as the TotalEnergies Man of the Match on Friday to be a significant career accomplishment.
The young man was overjoyed to receive the award after Angola and Mauritania drew scorelessly in the TotalEnergies African Nations Championship (CHAN) match in Oran, Algeria.
The 21-year-old commended his teammates for their dedication to working toward the greatest outcome for the Palancas Negras even if they came up short in the game at the Miloud Hadefi Stadium after being recognized for his consistency during it.
"This award means so much to me. The CHAN is a big competition.
"We came to Algeria with big dreams and our goal was to win this game so that we can progress to the quarterfinals.
"We did our very best, but we settled for a draw," Gilberto said at the post-match press conference.
Gilberto missed a sitter in extra time that would have given his team the much needed win because his shot was barely wide.
During the game, the Petro de Luanda player had 49 touches of the ball, a 74% passing accuracy, and one shot that was on goal.
Gilberto, who frequently got the ball while being heavily pressed by the Mauritanian defense, also gave their opponents some trouble in the middle of the field.
"I thank God for this award. We really tried to win this game, but we failed to score against Mauritania.
"They are a very good team, and they complicated the game for us," Gilberto added.
With two draws, Angola leads Group D and will need to wait until Mauritania and Mali's match on January 24 to learn their destiny in the competition for players who compete in their national leagues.