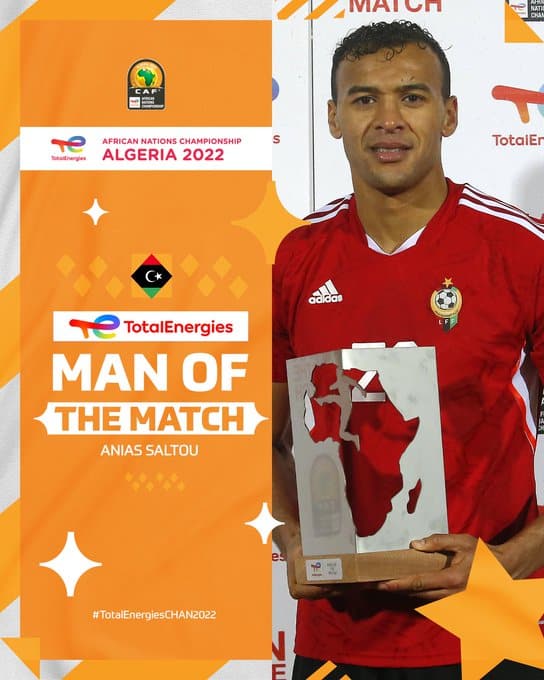 Mohamed Saltou, a striker for Libya, will shift his focus to supporting Algeria after his nation was eliminated from the 2022 TotalEnergies African Nations Championship (CHAN) on Saturday.
Even though they defeated Ethiopia 3-1 to place third in Group A of the competition that was solely for players from their own country, the Mediterranean Knights were eliminated from the competition at the group stage.
Anis Mohamed Jumaa Saltou, the TotalEnergies Man of the Match in Libya's most recent match against Ethiopia, was unambiguous about his future goals.
"Annaba welcomed us and that's why we wish Algeria the best in the tournament. We are always brothers. Hopefully Algeria wins the trophy."
At the 19 May 1956 Stadium, the team led by coach Corentin Martins overcame a goal deficit to defeat Ethiopia 3-1 thanks in large part to the 1.97-meter-tall boy.
With Saltou's goal in the 78th minute, the outcome was decided. He acknowledged that it wasn't simple for Libya to defeat Ethiopia in those conditions.
"First of all, it wasn't an easy game.
"We participated in the CHAN and won the competition before, but it wasn't to be this time around.
"We want to thank Algerians for the support. We will work and come back stronger," the Al Ahly Tripoli poacher added.
Despite a lackluster start to the game, Saltou refrained from claiming all the credit and instead praised his teammates for coming out on top.
The CHAN winners from 2014 Due to losses to Algeria and Mozambique, Libya was forced to leave the tournament early after two games. Nevertheless, the team, which was competing in its fifth tournament final, played for pride on the last day.
Libya currently has a record of three games played, two losses, one victory, five goals scored, and five goals conceded.
With three points, they finish third in Group A, two points above last-place Ethiopia.