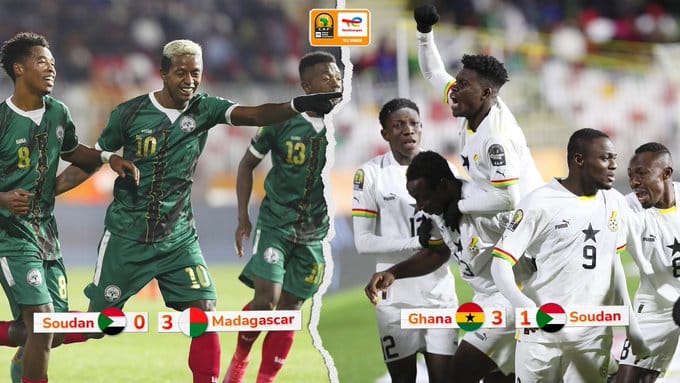 As the top two finishers in Group C, Madagascar and Ghana have advanced to the TotalEnergies CHAN 2022 quarterfinals.
After defeating Sudan 3-0 on Monday, Madagascar easily advanced to the quarterfinals of the TotalEnergies African Nations Championship (CHAN) 2022.
The Barea were in good form right from beginning assaulting Sudan from all sides and were rewarded as early as the 13th minute when Tokinantenaina 'Tsiry' Randriatsiferana made his way behind the Sudanese defenders to slide the ball past Sudanese goalkeeper Mohamed Mustafa.
At the majestic Chahid Hamlaoui Stadium in Constantine, Algeria, Madagascar, whose early performance had gained them support, jubilantly celebrated their lead before turning back in and attempting to increase it.
In a brilliant move, Solomampionona Razafindranaivo, who was in the right position at the right time, picked up a loose ball in the box from a Sudanese defender to score and extend the Barea's lead.
Lalaina Rafanomezantsoa scored the third goal for Madagascar following a superb counterattack that had the Sudanese goalkeeper leave his position to try to halt the move.
Sudan had a few chances to tie the game up again, but they were unable because of the same limitations that have plagued them throughout the entire tournament.
In a one-on-one encounter with the goalkeeper of Madagascar, Zakanirina Rakotohasimbola, Mohamed Abdelrhman Yousif had a chance to score, but the latter deflected the ball away.
While Madagascar was also comfortably looking for additional goals as Sudan pressed forward, the Barea eventually emerged victorious for the third time in the continental championship for players who compete in their respective home leagues.
In the second Group C game, the Black Galaxies were awarded three goals and three points against Morocco who failed to show up in the tournament.
On January 28, Madagascar will play Mozambique in a COSAFA rivalry, while Ghana must wait until Tuesday to see who will be the Group E victor, likely Cameroon or Niger, who will play each other in Oran.
Source:CAFonline