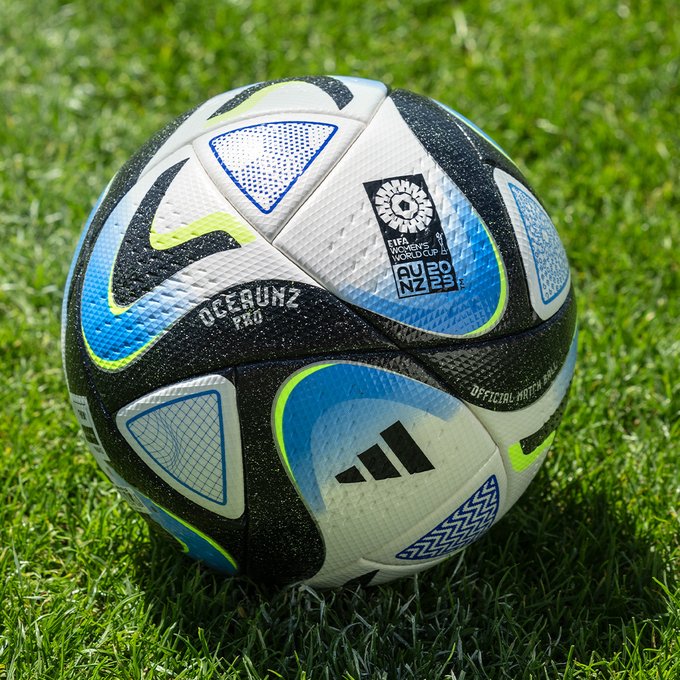 With 177 days to the kick of the 2023 FIFA Women's World Cup, the Official Match Ball known as OCEAUNZ has been launched.
The launching was done in spectacular fashion in Sydney / Gadigal, Australia, travelling over the iconic Sydney skyline by helicopter before arriving at Marks Park overlooking Bondi Beach.

OCEAUNZ, the ninth FIFA Women's World Cup football produced by adidas, is inspired by the distinctive natural landscapes of the two host countries, with imagery paying homage to the huge mountains of Aotearoa New Zealand and Australia's connection to the Indian Ocean.
The ball, which contains decorations by Mori artist Fiona Collis and Aboriginal artist Chern'ee Sutton, celebrates the cultures of both host nations.
The Beyond Greatness brand identity for the FIFA Women's World Cup 2023 incorporates their artwork.

Speaking about the launch of OCEAUNZ, FIFA Secretary General Fatma Samoura said: "adidas has created an iconic Official Match Ball for the FIFA Women's World Cup that reflects diversity, inclusivity and togetherness, fitting themes for the first-ever FIFA Women's World Cup to be co-hosted by two different countries from different confederations.

"This edition of the tournament will be extremely special and the rich cultures of Australia and Aotearoa New Zealand, as evoked on OCEAUNZ, are certain to take the experience of visiting fans and teams #BeyondGreatness."

The Official Match Ball's moniker honors the pairing of Australia and Aotearoa New Zealand as the competition's hosts.
The connected ball technology used at the FIFA World Cup 2022 in Qatar is also included in OCEAUNZ.
This delivers accurate ball information that will be made instantly available to video match officials.
The cutting-edge connected ball technology contributes to FIFA's semi-automated offside technology by combining player location data with artificial intelligence and providing Video Assistant Referees with immediate information to aid in decision-making.

OCEAUNZ features:

CTR-CORE – a ground-breaking core within the ball that is designed to improve accuracy and consistency, supporting fast, precise play with maximum shape and air retention

SPEEDSHELL – The ball's polyurethane (PU) skin features micro and macro textures and a new 20-piece panel shape, enhancing aerodynamics

CONNECTED BALL TECHNOLOGY – A Suspension System in the centre of the ball hosts and stabilises a 500Hz inertial measurement unit (IMU) motion sensor, providing unprecedented insight into every element of the movement of the ball.
The sensor is powered by a rechargeable battery, which can be charged by induction.

OCEAUNZ will be available to purchase in adidas stores, at selected retailers and online at www.adidas.com/football.

The FIFA Women's World Cup 2023 will kick-off on Julu 20 with New Zealand taking on Norway in the opening match before Australia play the Republic of Ireland later that day.
The Final will be held in Sydney / Gadigal on August 20.