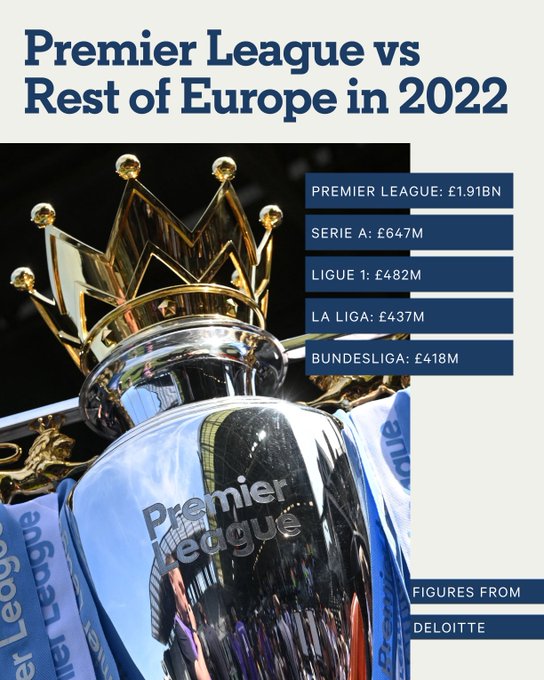 According to sports finance experts Deloitte, Premier League clubs shattered the record for transfer spending during the January transfer window with a £440 million spending binge.
By 3pm GMT on Tuesday, Premier League teams have spent more money overall than the previous record of £430 million set in January 2018.
Chelsea's funding from their new owners was a major contributor to the English top division's record-breaking January.
The Blues have spent almost £180 million this month, including a rumored £88.5 million agreement to bring in Ukrainian winger Mykhailo Mudryk from Shakhtar Donetsk.
Additionally, Chelsea signed David Fofana from Molde, Benoit Badiashile from Monaco, Andrey Santos from Vasco da Gama, and Noni Madueke from PSV Eindhoven.
Cody Gakpo, a Dutch forward, joined Liverpool for £44 million from PSV in another of the major January transfers.
The January window has one week left before it ends, so there is still time for the new record to increase.
According to Deloitte, Premier League teams' gross spending in the January 2022 window started at £105 million with one week left and ended up at £295 million.
"January 2023 has already surpassed the record spent during any previous winter window as Premier League clubs look to reinforce their squads ahead of a crucial second half of the season," said Calum Ross, assistant director in Deloitte's Sports Business Group.
"The 2022-23 season has seen clubs invest heavily in their squads, and to date this season Premier League clubs have spent more than £2.4 billion on player transfers.
"New ownership and an availability of financial resources to pay significant sums to maximise performance continue to be key contributors towards record spending levels.
"While this level of spending illustrates Premier League clubs' recovery post-pandemic, the importance of long-term financial planning and focus on financial sustainability should continue to be a priority."
According to Deloitte, Premier League clubs have spent a total of £2.4 billion so far on the 2022–23 season, beating the previous winter expenditure record of £1.9 billion.