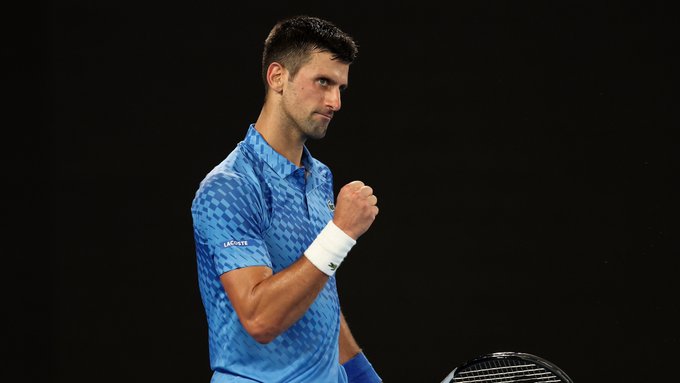 With his victory over Tommy Paul, nine-time winner Novak Djokovic advanced to the Australian Open championship match against Stefanos Tsitsipas.
The 35-year-old Djokovic of Serbia overcame a shaky start to defeat the American by scores of 7-5, 6-1, and 6-2.
After defeating Russian Karen Khachanov, Tsitsipas, 24, now has a second opportunity to win his first Grand Slam championship.
Khachanov was defeated by third-seeded Greek Tsitsipas 7-6 (7-2) 6-4 6-7 (6-8) 6-3.
Tsitsipas gets the chance to exact revenge on Djokovic for the loss he suffered in the 2021 French Open final as he plays in the Australian Open championship match for the first time.
But in order to receive the trophy on Sunday, he must defeat Djokovic, 35, at Melbourne Park for the first time since 2018.
Djokovic is aiming for a record-extending 10th triumph, which would tie Rafael Nadal's total of 22 major men's titles. Djokovic defeated Paul to create a new record of 27 consecutive victories.
After bouncing back from Khachanov saving two match points in the third-set tie-break, Tsitsipas—who will move up to the top spot if he wins—finally secured his berth.
In what turned out to be the decisive game, another tight forehand saw a third opportunity slip away before he gathered his composure to convert his fourth when the 18th seed whacked a first serve long.
When asked what he was thinking as the fourth set of the match began, Tsitsipas replied, "I thought about how hard I've worked to get here.
"But if you stick around, dedicate yourself even more, and concentrate even more in the important moments it pays off."
Tsitsipas has long seemed destined for success at the Australian Open, a tournament featuring a hard-court surface on which he excels and in a city where he enjoys the warm support of its sizable Greek population.
The tall youth made his presence known there by defeating the reigning champion Roger Federer in the fourth round of 2019.
However, a riveting run came to an end when he was routed by Rafael Nadal in his first semi-final appearance, ending his impressive run.
In both 2021 and 2022, longtime adversary Daniil Medvedev ruined his hopes at the last-four stage, but this time it was another Russian, the formidable Khachanov, who stood in his way.
Tsitsipas began confidently against a player he had defeated in all five of their prior meetings, backed by a boisterous audience that waved Greek flags after nearly all of his winning points.
Tsitsipas surged ahead two sets as Khachanov was unable to handle his thumping groundstrokes and his athleticism.
Few spectators on Rod Laver Arena anticipated anything other than a straight-set victory when Tsitsipas broke early in the third set and surged into a 5-4 lead, leaving him serving for the match.
However, Tsitsipas' jitters surfaced, as he suddenly appeared uneasy with his groundstrokes. Khachanov then broke loose to extend the match.
Before the fourth set, Tsitsipas had to use the restroom. When he returned, he was unburdened by anticipation and immediately broke Khachanov's serve.
As he finally made it to the final of what he refers to as his "home" Grand Slam event, dominant service games from that point on ensured there would be no repeat of the previous set.
"I feel blessed for the fact I'm able to play tennis at this level and for many years I've wanted to put Greek tennis on the map – Maria [Sakkari] and I have done that, I think," Tsitsipas said.
"Coming from a small country like Greece I feel so grateful I get support like this.
"I never thought I would be treated so well here so I'm extremely happy I'm in the final now – let's see what happens."