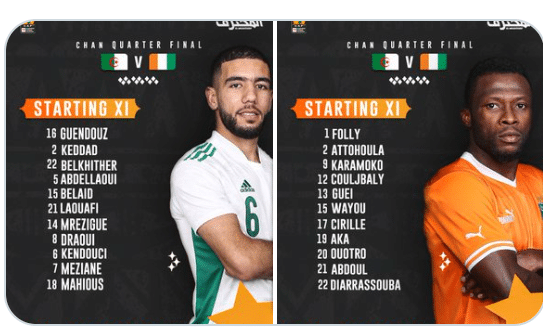 The 2022 African Nations Championship CHAN quarterfinal matchup between Algeria and Ivory Coast will take place at the Nelson Mandela Stadium on Friday.
Both teams successfully finished their separate group-stage campaigns, and they now aim to continue where they left off in what should be an exciting contest.
With a razor-thin 1-0 victory over Mozambique in their matchup on Saturday, the host country Algeria made yet another statement of determination.
After Hocine Dehiri scored in the seventh minute, Madjid Bougherra's team missed several solid opportunities to end the game.
The Fennec Foxes have now won all three of their CHAN games without giving up a goal, helping them to take first place in Group A.
With only two wins apiece and a draw in the previous five meetings, the opposition team that faces us next poses little of a challenge.
Algeria will put their faith in themselves to perform well in front of their supporters once more as they attempt to match their best-ever CHAN finish, which saw them reach the final four in 2011.

On Sunday night, the Ivory Coast defeated the Uganda Cranes 3-1 to begin their African Nations Championship campaign.
The team of Souhalio Haidara got off to a fast start with goals from Patrick Ouotro and Karamoko Sankara. Moses Waiswa then pulled one back, but Aubin Kramo sealed the victory in the 78th minute.
With that victory, the Elephants amassed four points from their three Group B games and placed second in the standings, two points behind Senegal.
Ivory Coast recently ended a four-game losing streak across all competitions, and they are now looking to win consecutive games for the first time since November.
Algeria starting XI:
Guendouz
Keddad
Belaid
Abdellaoui
Belkhiter
Mrezigue
Kendouci
Draoui
Meziane Bentahar
Mahious
Laouafi

Ivory Coast starting XI:
Ayayi
Habib Cirille
Siahoune
Coulibaly
Attohoula
Diarrassouba
Karamoko
Wayou
Gueï
Aka
Ouotro