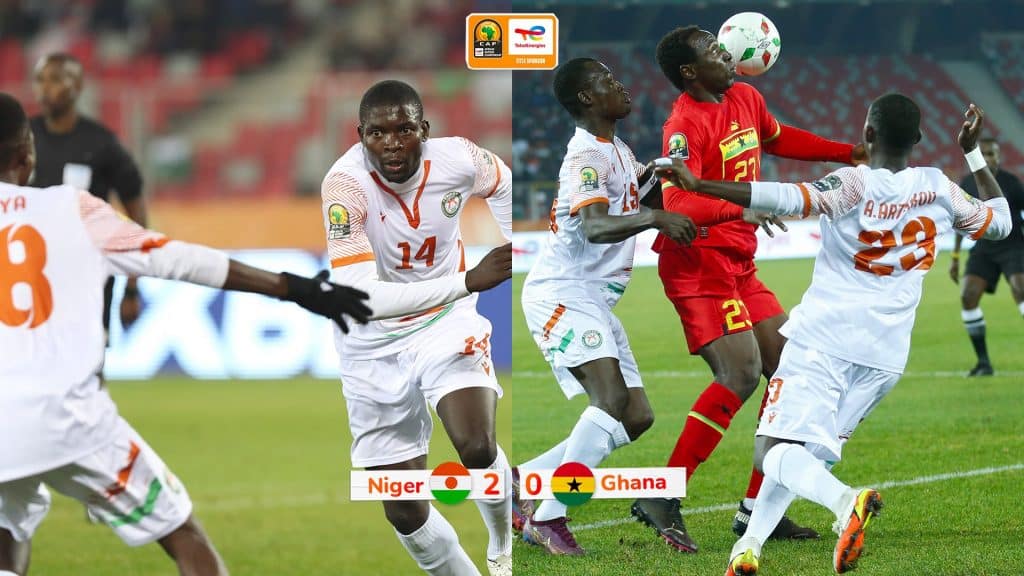 Niger won 2-0 over Ghana on Saturday to advance to the TotalEnergies African Nations Championship CHAN semi-finals for the first time.
Konadu Yiadom's own goal and Soumana Hainikoye Boubacar's stunning strike gave the Menas a resounding victory at the Miloud Hadefi Stadium in the Algerian city.
In their third encounter at the Oran stadium, Niger demonstrated good control of the field by going three games without surrendering a goal and preventing the Ghanaians from playing their usual game to exert control.
Read Also:
Imarana Dan Baro's shot bounced off Yiadom's head in the 11th minute, beating goalkeeper Danlad Ibrahim to give coach Harouna Doula's squad the lead.
The Black Galaxies then completely controlled the ball, but they struggled to get past a tough Mena defense, putting more of a strain on the Ghanaian shot-stopper.
Goalkeeper Danlad was tested frequently throughout the game as a result of pressure from Abdoul Aziz Ibrahim, Imarana Dan Baro, and Faycal Abdoulaye on the Ghanaians.
After the break, Niger appeared more determined and increased their onslaughts against Ghana's defense. When Soumana Hainikoye Boubacar curled in from the edge of the box to double Niger's advantage in the 50th minute, those efforts had paid off.
The Black Galaxies' coach Annor Walker made a few substitutes to add additional offensive possibilities, and shortly after that, Abdoul Aziz headed away Dennis Korsah's goal-bound attempt.
After fouling an opponent in the build-up, Kwame Otu's goal in the 65th minute, which Ghana thought it had scored, was disallowed.
The Black Galaxies had more offensive options thanks to Augustine Agyapong, but Adamou Djibo of Niger stood tall to stave off all the danger he posed.
Thoughts of a potential Ghanaian comeback were unfounded, as the Mena displayed tenacity throughout the match to earn their third straight clean sheet and a 2-0 victory.
As a result, Niger has now participated four times and has advanced to the semifinals for the first time. Their previous best performance came in 2011, when they reached the quarterfinals.
They will play the hosts Algeria in the CHAN 2022 semi-final on Tuesday at 1600 GMT at the Nelson Mandela stadium.