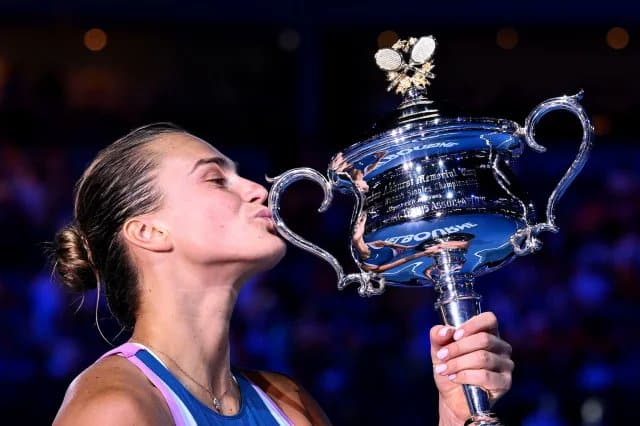 Aryna Sabalenka overcame geopolitical upheaval to win the Australian Open and become the first person to win a Grand Slam while representing a different country.
She did this with audacity, tenacity, and a devastating forehand.
Despite being disqualified from competing for her own country of Belarus, the powerful Belarusian defeated Wimbledon champion Elena Rybakina 4-6, 6-3, 6-4 in the championship match on Saturday at Rod Laver Arena.
Due to Russia's invasion of Ukraine, players from Belarus and Russia effectively compete as "stateless" persons on the ATP and WTA tournaments.
Rybakina, a Russian-born athlete, would have participated in matches as a neutral had he not shifted his allegiance to Kazakhstan in 2018.
The championship game was perhaps played at Rod Laver Arena without spectators hoisting the winning team's flag in the stands.
Following a complaint from the Ukrainian embassy in Australia, spectators were prohibited from bringing Russian and Belarusian flags to Melbourne Park on the second day of the competition because the organizers deemed them to be disruptive.
The Daphne Akhurst Memorial Cup, which serves as the winner's trophy, will not bear the words "Belarus" next to Sabalenka's name.
When the 24-year-old cheerily celebrated with her squad in the players' box and drank on a glass of champagne at her post-match media conference, they might have appeared like insignificant things.
When questioned if being a neutral player had diminished her victory in any way, she grew a little more glum.
"I believe that everyone still recognizes that I am a player from Belarus. I'm done now "She spoke bluntly to the media.
Last year, Wimbledon banned Sabalenka and other players from Belarus and Russia. This divisive decision resulted to significant fines from the men's ATP and women's WTA tournaments as well as the loss of ranking points for the Grand Slam.
Wimbledon will soon have to make a decision regarding the future of the player ban due to the ongoing conflict in Ukraine.
Sabalenka dodged the question of whether skipping Wimbledon made her Australian Open victory more satisfying.
"I mean, missing the Wimbledon was really tough for me. It was a tough moment for me," she said.
"But I mean, I played the U.S. Open after. It's not about Wimbledon right now. It's just about the hard work I've done."
Following Victoria Azarenka, who won the Australian Open twice and was eliminated in the semi-finals, who is now Belarus' second tennis player to win a Grand Slam, the country's tennis federation was quick to offer congratulations.
Although Sabalenka believed that Belarusians would be proud of her, she had no immediate intentions to join them in their joy.
"I think I will go back to Miami. I live there right now," she said.