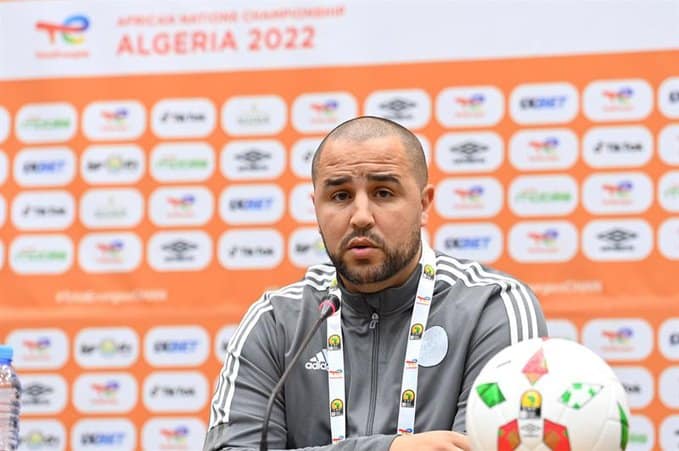 Following a convincing 5-0 triumph over Niger in the opening semi-final of the ongoing TotalEnergies African Nations Championship (CHAN) 2022 in Oran, Algeria coach Madjid Bougherra praised his team for their outstanding performance.
The Algerian tactician was animated in his post-game press conference on Tuesday, emphasizing that his team deserved the victory after putting in a lot of work to advance this far in the competition.

"We thank the players. We need to acknowledge the fans as well because their support was important to us.
"The players respected the plan and we emerged victorious and are going to the final in Algiers," said the joyful Bougherra.

The Desert Foxes had four 1-0 victories prior to this semi-final, but Bougherra acknowledged after the win on Tuesday that it was timely and much needed by his team, who had come under fire from some supporters.
Bougherra said: "We are delighted to have scored five goals.
"When we started this tournament, we kept hearing people criticizing the team and in football, sometimes you have to take the criticism.
"The players have been working very hard but maybe this result will take away some of that pressure.

Prior to their match against Algeria, the Menas of Niger had gone three games without giving up a goal. However, Bougherra's team was unstoppable that evening, executing a particularly lethal offensive strategy and keeping a fifth consecutive clean sheet.


"We knew that they would lose balls. We put pressure on them to do so.
"I am happy that we managed to score five goals.
"It is a game that we managed and were in full control.
"Things were slow at the beginning but when we scored the first goal and had a 4-0 lead at the halftime break, we knew that we were doing the right thing," Bougherra explained in detail.
In the past 13 months, Bougherra has advanced Algeria to three finals of international competitions, including the FIFA Arab Cup where he led the Desert Foxes to a 2-0 victory over Tunisia.

"We know that people love to see us win. We know that they are proud of the players.
"For a coach, the final is very easy. We are motivated enough to win the game. We played very hard today. We want to win in 90 minutes.

"If we are meant to win, so be it and if not, let it be.
"My dream is that we win the trophy. This is the best. We need to forget about the win today and focus on the final," Bougherra said.

Hosts Algeria will face Senegal who defeated Madagascar in the second semi final game in the final to be played at the Nelson Mandela Stadium in Baraki, Algiers on February 4.