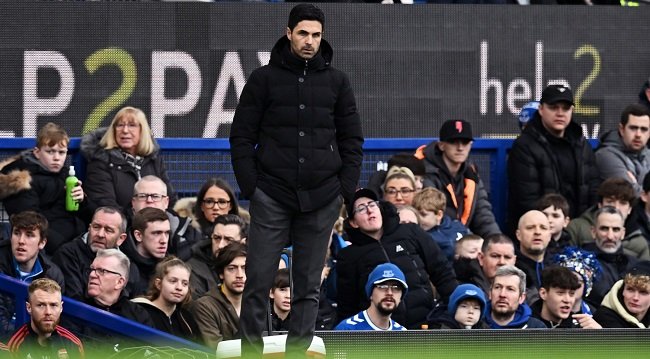 Despite the league leaders' 1-0 loss to bottom-feeding Everton on Saturday, Arsenal manager Mikel Arteta is still "very pleased" of his team.
Only Arsenal's second loss in the Premier League this season—their first coming against Manchester United at Old Trafford in September—came through James Tarkowski's second-half header at Goodison Park.
The outcome means that Manchester City, even though the London team will have a game in hand, can trim the Gunners' lead at the top of the league to just two points with a win over Tottenham on Sunday.
When facing the Toffees, Arteta became the first Arsenal manager to lose three straight away Premier League games.
He bemoaned his team's failure to handle Everton's physical threat but hoped it would serve as a valuable lesson for the rest of the season.
"We had loads of the ball and we generated many chances, but we lacked that purpose and quality in the final third," he told BT Sport.
"Then we conceded and they slowed the game down and we struggled.
"They do this to every team. Their physicality is their strength.
"If you want to control the game against them you have to control this. We did not do that.
"We needed more composure and to better control the game emotionally.
"We gave away so many unnecessary free-kicks and that's what they want.
"Today I love them much better than the week before or a month ago.
"It is easy to be next to someone when they are winning well. I am still so proud of all of these players, they deserve it.
"This is not going to be a rosy pathway. This is going to be tricky and we will have to dig in and play much better than we did today."
The following Saturday, when Arsenal takes on Brentford, the team will look to get back on track before facing Pep Guardiola's City four days later.