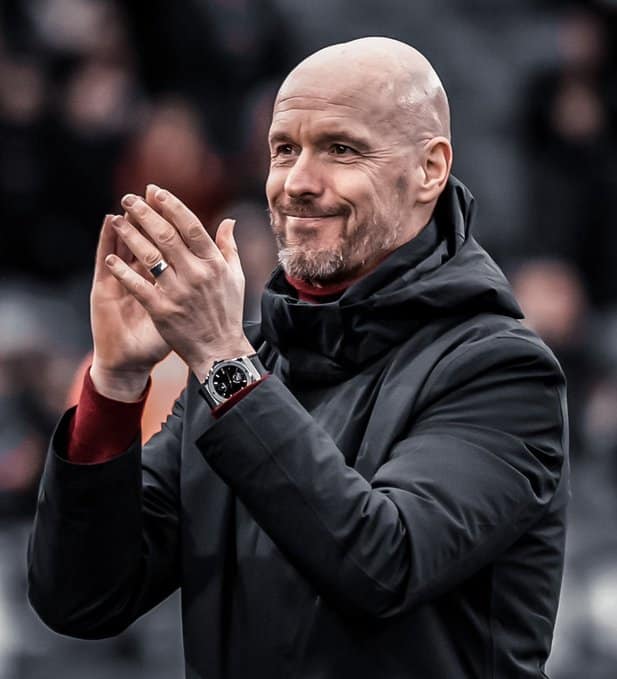 After Manchester United defeated Real Betis 1-0 on the road, Erik ten Hag praised his team's strength and made a joke about how relieved he was that none of his players had personal fouls.
In the second leg on Thursday, a goal by Marcus Rashford early in the second half was the deciding factor, as United moved on to the quarterfinals of the Europa League as 5-1 aggregate winners.
With a three-goal advantage from the rematch last week, Ten Hag gave Facundo Pellistri his first senior start while also recalling Tyrell Malacia and Harry Maguire.
In the second half, Marcel Sabitzer, Anthony Elanga, Victor Lindelof, Jadon Sancho, and Diogo Dalot were also introduced, allowing Ten Hag to fully utilize his bench players.
"I think all the players did very well," he told BT Sport. "Those who came in put in a good performance. We not only have 11 players, we have a squad."
Although exaggerating the strength of his team, Ten Hag was happy that no players would be missing for the quarterfinals.
When asked what was best about the triumph, the Dutchman responded: "No injuries, no red cards. We have a sizable team, but not a large one."
Only Barcelona (22) has more clean sheets than United's 21, but United has won more games than any other team in the major five leagues of Europe this season.
For the first time this season, United failed to have a shot on goal in the opening period of a game.
Nevertheless, after Rashford's 27th goal of the year, United improved and easily secured the victory.
"I'm happy but we like challenges," Ten Hag said. "We knew before that Betis is a really good team. We have seen it against Real Madrid, against Barcelona. 
"I think we could also go into the lead but there was some moments in defensive transitions that they could break and we have to avoid that and keep more control of the ball.
"We didn't always do it and the second half was much better. But you see also the energy is out of the opponent and especially after you get the first goal."
The focus will initially shift to Sunday's FA Cup quarterfinal against Fulham even though United is already in the pot for the draw on Friday.
Maguire should get another chance to start that game, and the United captain is anxious to prove he merits more regular playing time.
"I work hard at the training ground and that's all that you can do," he told BT Sport. "You can work hard in training; I put everything into training. 
"Obviously I want to play more, I want to start more games, but I'm playing my part on and off the field.
"It's nice to be out there leading the team and getting the victory, which is the most important part for myself and the club.
"Every day I try to make this club succeed, whether I'm playing or not. That's my main focus at the moment."
United has won five and drawn two of their last seven road games in Europe against Spanish teams.