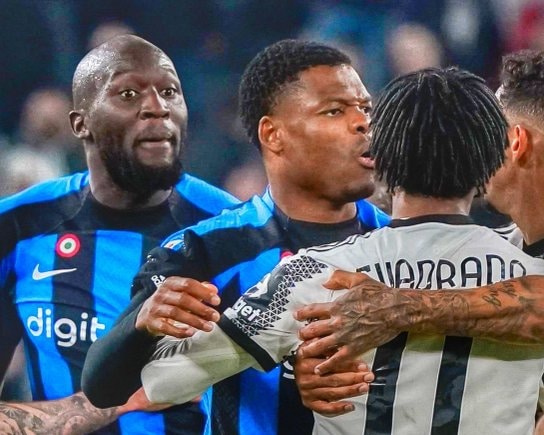 Juventus fans racially abused Inter striker Romelu Lukaku, prompting a one-match partial stadium ban.
Lukaku was booed by opposing fans both before and after scoring a penalty in the fifth minute of added time to earn Inter a 1-1 tie in the first leg of the Coppa Italia semi-final on Tuesday.
The Belgian international received a second yellow card for putting his fingers to his lips in an attempt to silence the Allianz Stadium crowd.
On Thursday, Serie A announced that Juventus must close the lower tier of the South Stand for their next home league game against Napoli on April 23.
According to the judge presiding over the case, "the majority of the 5,034" spectators in that stand were guilty of racially abusing Lukaku.
Lukaku will still serve a one-match suspension in the rematch against Juventus on April 26 for his sending off, which sparked a mass melee near full-time.
Inter goalkeeper Samir Handanovic and Juventus midfielder Juan Cuadrado were both sent off for their roles in the brawl and will be suspended for one and three games, respectively.
Lukaku, who is on loan from Chelsea at San Siro, has been subjected to racism on numerous occasions in Italy and has called for more serious action this week.
"History repeats. [I've] been through it in 2019 and [now in] 2023 again," he posted on his official social media channels.
"I hope the league really take actions for real this time because this beautiful game should be enjoyed by everyone.
"Thank you for the supportive messages. F*** racism."
Juve intend to work closely with authorities to identify the fans responsible and issue bans