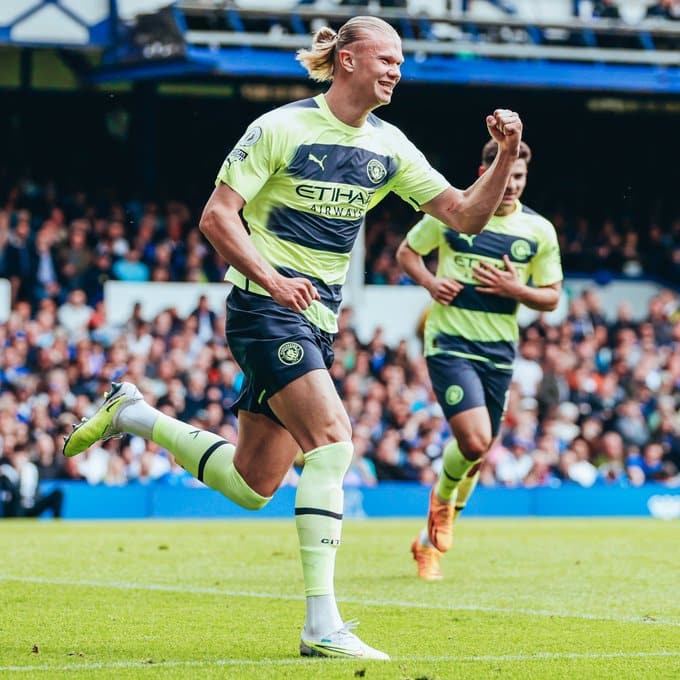 A spectacular day at the top of the league saw Manchester City defeat Everton 3-0, then Arsenal lose at home to Brighton & Hove Albion by the same score.
With one victory remaining, Manchester City will win the Premier League for the eighth time.
If Arsenal loses at Nottingham Forest on Saturday, Pep Guardiola's team might already be crowned champions.
However, even if the Gunners triumph, City would still win the championship if they defeated Chelsea at home the following day.
In the event that Arsenal draw at Forest, City would also be crowned champions if they also tie or defeat Chelsea.
Man City won easily at Goodison Park thanks to two goals in the first two minutes of the game.
Mason Holgate had the finest opportunity for Everton in the opening period, but after James Tarkowski's knockdown, he could only shoot high.
Riyad Mahrez crossed for Ilkay Gundogan in the 37th minute, who controlled on his thigh before expertly flicking in with the outside of his boot. That error proved costly as Man City moved ahead.
118 seconds later, City extended their lead when Erling Haaland emphatically headed home Gundogan's left-wing cross for his 36th league goal of the year.
On the hour mark, Gundogan scored his third goal in as many games, curling a beautiful free kick over Jordan Pickford and into the top left corner.
As City cruised to its 11th straight victory, Guardiola was free to substitute goal scorers Gundogan and Haaland with 12 minutes left before Wednesday's important second leg of the UEFA Champions League semifinal against Real Madrid.
Everton is still in 17th place and is one point above the bottom three.