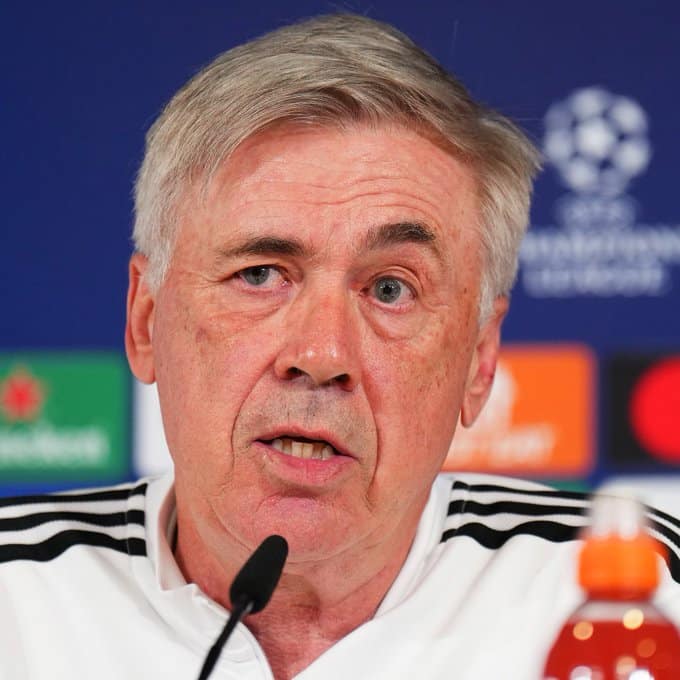 When Real Madrid arrived at the Etihad Stadium for their Champions League semi-final second leg against Manchester City, they were in a relaxed mood despite an airport delay.
The European champions were delayed by their team bus, which was unable to pick them up on schedule, for more than 30 minutes in the arrivals area of Manchester Airport on Tuesday.
In spite of this, Carlo Ancelotti's team was quickly driven to the stadium where they had been practicing in preparation for the match on Wednesday.
This match will start on a razor's edge following a 1-1 draw in the first leg at the Bernabeu last week.
In his pre-game press conference, manager Carlo Ancelotti stated: "I am very calm, full of hope, full of faith.
"Tomorrow – game day – that's when the worries come in and you think things through, whether (Erling) Haaland will score or (Kevin) De Bruyne will hurt you.
"But I try to put it out of my mind. It is all about managing thoughts.
"We are very happy to be here, we are feeling good. It is a usual event for us to be in a semi-final.
"It's 11 years out of 13 in the semi-finals. That's not easy. We enjoy it while we can."
City may have the home edge, but as the current holders and 14-time European winners, Real are more than capable of winning these games.
The title has been won by Ancelotti twice with Real Madrid and again with AC Milan. He said: "It's important for Real Madrid because of our history in the competition.
"In the 1950s it became important for the fans and players.
"It's everything you work for. It's something special to try to win European trophies, especially the European Cup.
"It's been important for them throughout their history. It is a club that has a special power to stay alive."
With Eduardo Camavinga recovering from an injury and Eder Militao returning from suspension, Ancelotti is allowed to use his entire squad.
The teams were evenly balanced in the first leg, with City controlling possession for long stretches and Real consistently posing a threat on the counterattack.
Ancelotti said: "I don't think it will be so different.
"There may be some adjustment from both sides. There are things we can improve but I think they think that too.
"These are the best two teams in Europe and I'm predicting an exciting game like the first leg."
Luka Modric, a seasoned midfielder, is enjoying the game.
The Croatian athlete remarked: "We have good feelings and are eager to get going. I can't wait.
"These games are like finals. It is massive. You have to enjoy every minute."