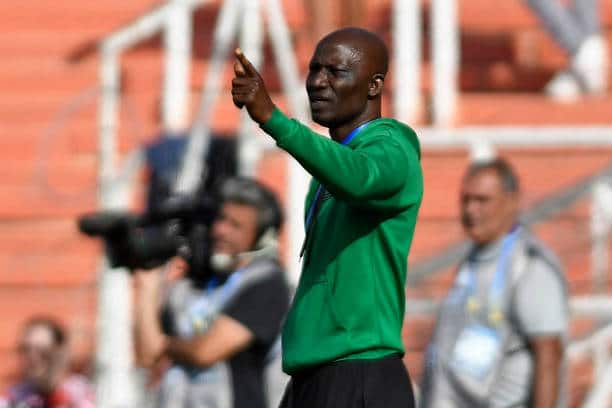 The Flying Eagles U20 team from Nigeria will put in a lot of effort to maintain its winning attitude by challenging Brazil in Saturday's last Group D encounter at the FIFA U20 World Cup championships in Argentina.
The seven-time African champions' head coach Ladan Bosso voiced optimism in his squad's ability to turn the tables against the one team that has remained their weak point at the FIFA U20 World Cup on Friday.
"Yes, we acknowledge that Brazil has always been a hard nut to crack for our team at this level.
"We have lost a number of matches to them over the decades, but there is always a first time.
"We are riding on a wave of robust confidence and though we do not under-rate them, we certainly do not fear them.
"We have been able to fulfill our first objective for this championship: getting to the knockout stages.
"We will take it one match at a time from now onwards.
"We don't want to take it easy and lose against Brazil; that will not be good for our winning mentality."
Dr. Mohammed Sanusi, the general secretary of the NFF, who is now in Argentina with the two-time World Cup silver medalists, expressed on Friday his confidence in the Flying Eagles' ability to win and finish first in Group D.
"Presently, Nigeria is the only team with six points in the group.
"Italy can beat Dominican Republic and also go to six points.
"So, with the minimum of a slight win or draw against Brazil, we will top the group.
"It is important to top the group and also to sustain our spirit of winning."
The important match will take place at the 53,000-seat Estadio Ciudad de La Plata, close to Buenos Aires, as Brazil looks to win to guarantee a spot in the round of 16, while Nigeria simply needs a draw to finish first in the group.
In 1983, Brazil defeated the Flying Eagles 3-0 in Guadalajara, Mexico, during Nigeria's inaugural appearance at the FIFA U20 World Cup (then known as the FIFA World Youth Championship).
Nigeria, which defeated the Soviet Union in its opening encounter and then drew 0-0 with The Netherlands, was the only team to not advance to the knockout round due to the outcome.
The Flying Eagles upset the host Soviet Union on penalties to earn the bronze medals, but two years later, the Brazilians defeated Nigeria 2-0 and went on to win the trophy.
Brazil humiliated the Flying Eagles 4-0 in their inaugural match in Chile in 1987, and the Nigerian players never recovered from the shocking loss.
At the 2005 finals in The Netherlands, both sides, however, fought to a scoreless draw in their opening encounter of Group F, with Nigeria taking home the silver medal instead of Brazil's bronze.