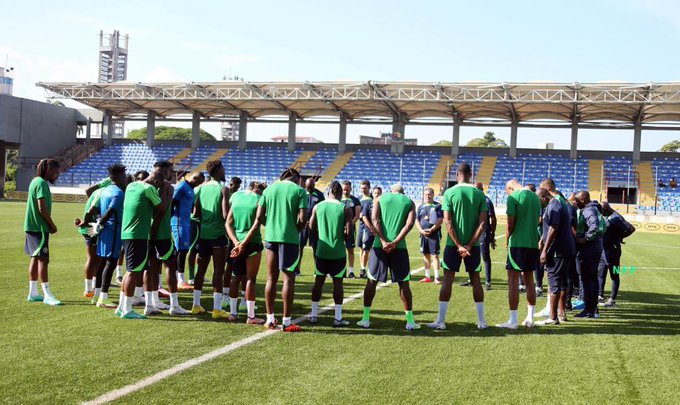 Ahead of their 2023 AFCON qualifier against Sierra Leone on Sunday at the Mobolaji Johnson Arena in Lagos, the Super Eagles needed to prepare, according to Nigeria Football Federation (NFF) Ibrahim Gusau.
Speaking to the players over supper on Friday, Gusau said that the decision to train in Lagos was made because the Mobolaji Johnson Arena's pitch is comparable to that of the Samuel Kanyon Doe Sports Complex in Monrovia, where the match will take place.
"Your stay in Lagos has been wonderful because I know for the last one year or more we have not been in Lagos for this kind of camping.
"But due to the kind of pitch we are going to play on in Monrovia which is just a little bit similar to the Mobolaji Johnson Arena and to my own thinking the stadium here is even better than that one (in Monrovia) that is why we decided that you people should be in Lagos.
"At least we know it's not easy but it is better we start from here so that when we get there it would not be difficult for us and I hope we are all ready for the match on Sunday Insha Alla

Gusau congratulated the players for rescheduling their vacation to accept the AFCON qualifier invitation.
"I know it's not easy, you just finished your season and instead of you to go and rest and be with your family and go for your holidays but still football must continue.
"By the grace of God after Sunday you can go back to rest and prepare for your pre-season matches.

"I just want to thank all of you for honouring this invitation to serve your country as you always do by the grace of God we will do our best despite all the difficulties, financial difficulties and economic situation of the country we will do our best to ensure that at least we support you so that we can make Nigerians happy."

Amaju Pinnick, a current member of the FIFA Council and a former NFF president, was also present to support the athletes.
Pinnick asked the players and staff to support the NFF president and instructed them to ensure that the 2023 AFCON would be the first trophy won during Gusau's presidency.
"First I want to thank the NFF president for upholding that culture of what we started, oneness in the Super Eagles and I appreciate him (Gusau) because he is a good man who listens and who wants to work and develop you so you players must work for the country and also work for him.
" If you people know of one 10th of football administrators up through in this country you will appreciate us better.

"His (Gusau) first major trophy will be the AFCON in Cote d'Ivoire and that's why I'm here.
"Forget all those faces you see in Senegal and all those people, you are better than them.
"Who is better than Osimhen, who is better than Chukwueze who is better than Kenneth who is better than Awoniyi even Musa, who is better than you people.
"But on the pitch of play is what you people will demonstrate at every point in time.
"You have a good technical crew so by Sunday I know we have already qualified by God's grace.

"So trust me I will always be by the NFF president to support him, I will always.
"Like I told him there were something that we did that were not good, throw those things away take only the things that are good and carry it on."

Jose Peseiro, the team's head coach, complimented the players for their dedication during Sunday's game preparation.

"I want to thank the players you are all fantastic, you have given 100 per cent and more for the country and family, they don't come here for money but they are here to fight for the country.

"On behalf of the players I would only ask the NFF president to continue to do the maximum for us and I promise you they will continue to fight for the country."

Ahmed Musa, the captain of the Eagles, promised that the team would battle valiantly to win in Monrovia.

"There's nothing we can do just to win the game on Sunday Insha Allah and we are assuring you guys and all Nigerians we are going there to win the game."

The Super Eagles will be qualified for the AFCON in Côte d'Ivoire for next year with a win or a draw against Sierra Leone.
In Group A, the Eagles are currently second to Guinea-Bissau.