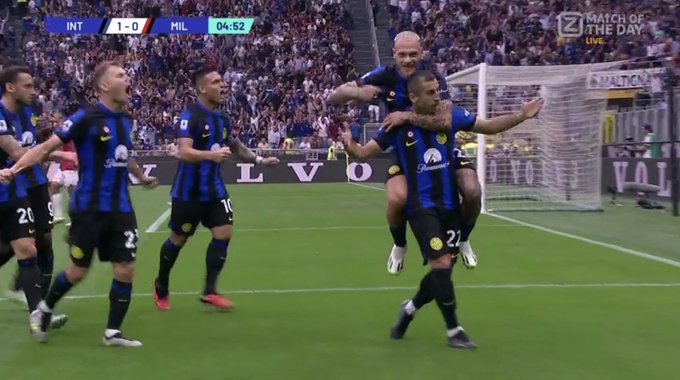 It was a bad day in the office for Samuel Chukwueze as his AC Milan club suffered a 5- 1 heavy loss in the Milan derby against Inter Milan.
Chukwueze came in as a substitute for Christian Pulisic after AC Milan had already fell to a 2-0 defeat in the first half.
Inter went two points clear at the top of the rankings with 12 points after four games after winning their opening three games without giving up a goal.
Before they depart for Real Sociedad in the Champions League on Wednesday, they are two points ahead of second-placed Juventus, who defeated Lazio 3-1 on Saturday.
They are also three points ahead of Milan in third.
For the first time in the history of the Milan derby, Inter won five straight games, scoring goals from Mkhitaryan, Marcus Thuram, Hakan Calhanoglu, and Davide Frattesi.
Inter took the lead in the fifth minute on a close-range goal from Mkhitaryan, and new addition Thuram extended the lead just before halftime with a beautiful effort into the top corner for his second Serie A goal.
Rafael Leao, who caught a ball and blasted past Inter custodian Yann Sommer as a sudden torrent of rain hit the San Siro, gave Milan a goal shortly before the hour mark.
Theo Hernandez's foul on Lautaro Martinez led to a penalty that Inter were awarded, and Mkhitaryan scored to make it 3-1 in the 69th minute. Midfielder Calhanoglu then added the fourth goal from the penalty spot.
After being set up by Mkhitaryan, substitute Frattesi scored the game-winning goal in stoppage time by outwitting the goalkeeper.
In Serie A, Inter has defeated Milan 69 times in a row and scored a record 256 goals against their local rivals.