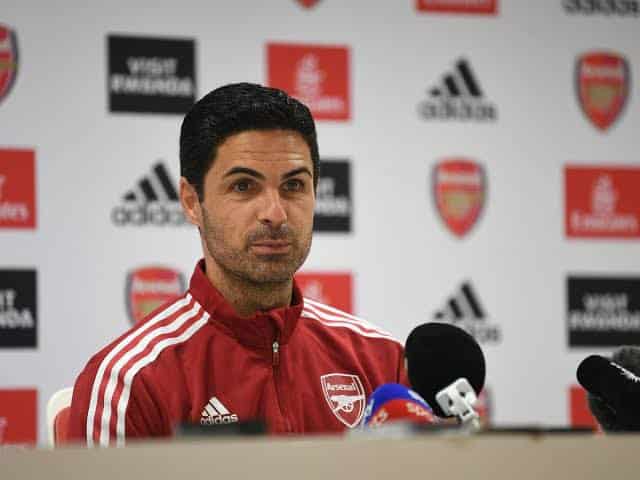 Mikel Arteta said that Arsenal's Champions League group stage victory this week gave the players more confidence going into the match Sunday's London derby against Tottenham.
With 13 points after five games in the Premier League, Arsenal has had a strong start to the year.
On Wednesday, a 4-0 thrashing of PSV Eindhoven helped Arsenal celebrate a triumphant return to the Champions League.
Ange Postecoglou, Spurs' new coach, has them off to their best start to a top-flight season in 57 years as they sit on 13 points following four straight victories.

"Winning always helps and maintains the spirit.
"This game doesn't need any motivation, it's the most special game of the season," Arteta told reporters on Friday.
" It's a derby and a special moment for all of us. We just need to focus on that.

"They have a new manager that has done really, really well and he's changed the vibe around the club.
"They have a different style too so we have to be ourselves and do the best to beat them."

Gabriel Martinelli, a winger, is still being evaluated and is still eligible to play on Sunday, according to Arteta.
Martinelli missed the PSV game due to a hamstring injury he acquired in last weekend's victory over Everton.
Thomas Partey, a midfielder, is still sidelined with a groyne injury.
Aaron Ramsdale has been "very supportive" since being benched in favour of David Raya, according to the Spanish coach, who has not yet made up his mind over who will start in goal against Spurs.

"It is very difficult with every player," Arteta said.
"I suffer and I care about every player who is not playing but this is the competition and this is my job to make decisions in the best possible way for the team."

Martin Odegaard, the squad's captain, earlier on Friday inked a five-year contract, and Arteta called it "great news" for the club and the team.

"He's loved by everybody, respected by everybody and he fully deserves what he's doing," Arteta said.
"When you have players that have the qualities to make you better, that's a huge bonus


"I think you are as good as your team, and the players he has around him elevates his qualities, and that's why he's better and better."