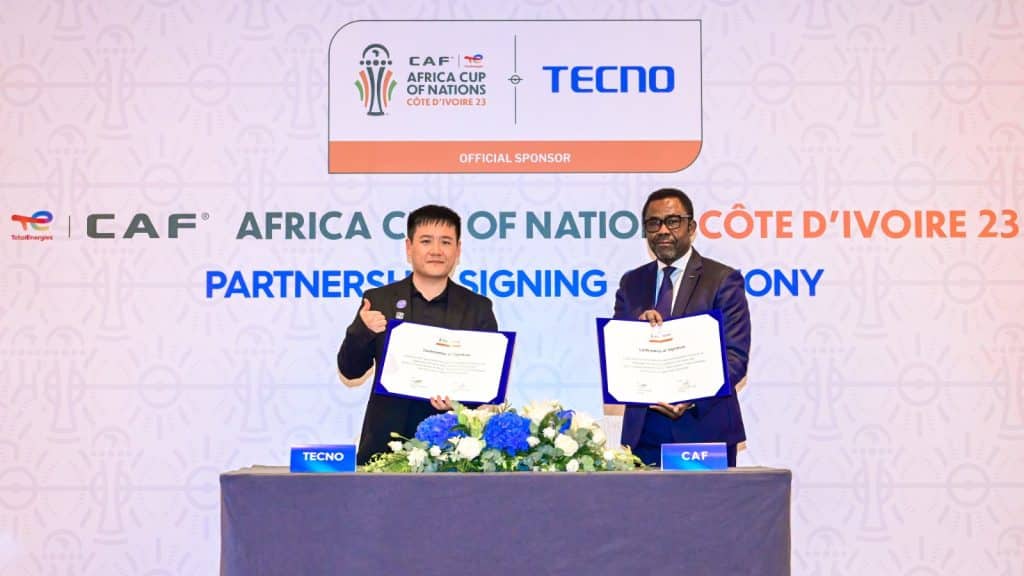 The TotalEnergies CAF Africa Cup of Nations in Côte d'Ivoire in 2023 will include TECNO Mobile as one of the Official Sponsors thanks to an agreement reached between the Confédération Africaine de Football (or "CAF") and the multinational technology corporation.
The TotalEnergies CAF Africa Cup of Nations in Côte d'Ivoire in 2023 will have TECNO Mobile as its sole smartphone partner.
The CAF General Secretary, Mr. Véron Mosengo-Omba, attended a ceremony in Singapore on September 21, 2023, where CAF and TECNO Mobile officially closed their collaboration and entered a new, exciting phase.
CAF President Dr Patrice Motsepe said: "CAF is delighted about the new Sponsorship Agreement between CAF and TECNO Mobile.
"There are discussions underway with several global companies that are very keen to sponsor and partner with CAF for the exciting CAF Competitions including the very popular Africa Cup of Nations ("AFCON") Competitions.
"The partnership between CAF and TECNO Mobile is significant as it brings together the Continents of Asia and Africa that account for the largest and youngest population in the World.
"This relationship will drive African football and CAF into a new and exciting market. TECNO Mobile has a strong footprint on the African Continent and we look forward to building a mutually beneficial partnership with them.
"We welcome TECNO Mobile to the African Football Family as our newest partner for the TotalEnergies CAF Africa Cup of Nations Côte d'Ivoire 2023."
"Mr Jack Guo, TECNO Mobile General Manager shared his excitement, stating: "This collaboration represents a momentous step for TECNO as we join hands with one of the most prestigious sporting events in the continent.
"TECNO has always been deeply committed to Africa. We look forward to a dynamic partnership that not only showcases our brand's commitment but also underscores the value and appeal of African football to a wide range of global partners.
"Together with the African Football Family, we are confident that we will achieve great success and create lasting memories for football and TECNO fans around the world."
The biggest sporting and social event in Africa, the TotalEnergies CAF Africa Cup of Nations Cote d'Ivoire 2023, will begin on January 13, 2024, in Abidjan, with the championship game set for February 11, 2024.
TECNO is a cutting-edge technology company with operations in over 70 markets worldwide.
It has made a commitment to revolutionising the digital experience in developing international markets and has worked tirelessly to achieve the ideal fusion of cutting-edge technologies with modern, aesthetically pleasing design.