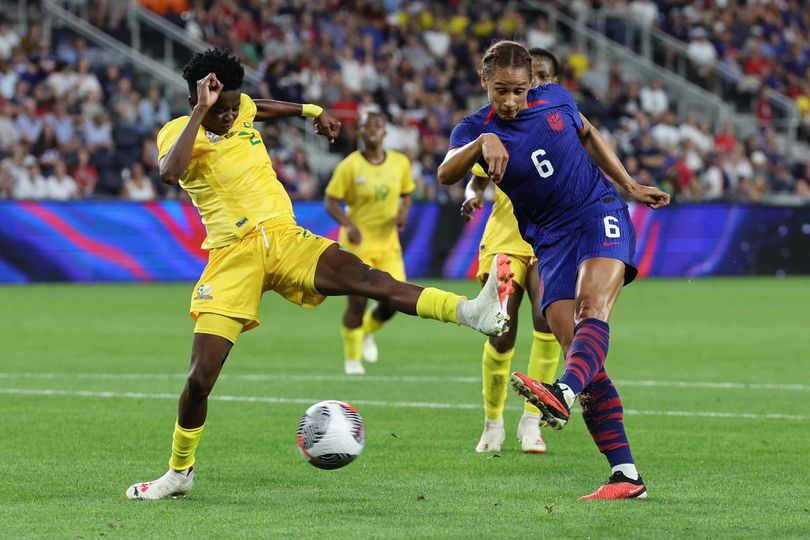 Banyana Banyana suffered a humbling defeat at the hands of the United States of America in an international friendly match played at the TQL Stadium on Thursday.
Coach Desiree Ellis' charges started well and looked lively in the opening 30 minutes of the match, but it was after Lynn Williams' opening goal for the former world champions in the 32nd minute that saw the confidence levels drop. There was a noticeable lapse in concentration after Williams' goal and the Americans quickly extended their lead two minutes later when Trinity Rodman slotted past South African goalkeeper Kaylin Swart.
Williams completed her brace just before halftime and the home side was firmly in the driving seat at the break. There were very few threatening opportunities from the Sasol-sponsored South African senior women's team in the second half and Ellis made a few changes with the hopes of bouncing back. It was not to be and the hosts won the match by a comfortable 3-0 final score.
Speaking after the game, Ellis revealed that her charges suffered a lapse in concentration but she will build on the positives when the two teams face off again in the second match in Chicago on September 24.
"We always speak about picking up and if you look at the first goal, we did not pick up. You look at the second goal, marking on the wrong side and it came quickly after the first goal. Even the third goal, we didn't pick up and those are moments of lapses of concentration," said Ellis as quoted by the SAFA website.
Banyana will travel to Chicago on Friday and take on the USA on Sunday in what will serve as a farewell match for U.S. Women's national soccer team legend Megan Rapinoe.