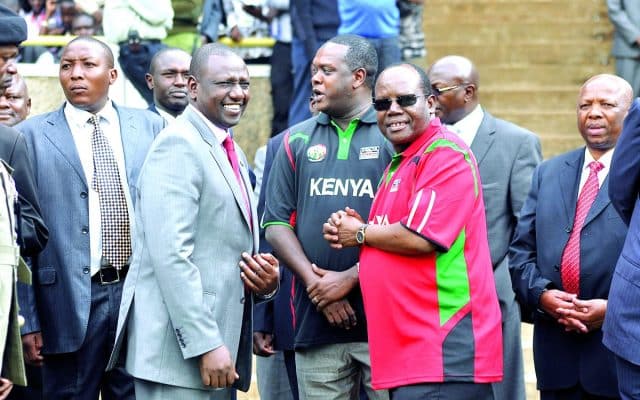 Veteran football administrator Sam Nyamweya has called on Kenya, Uganda, and Tanzania to work hard to ensure they successfully host the 2027 Africa Cup of Nations finals.
On Wednesday, the Confederation of African Football (CAF) awarded the East African joint bid, known as the "Pamoja Bid", the hosting rights for the AFCON. This announcement came shortly after CAF's executive committee meeting in Cairo, Egypt, where the winners were revealed.
The Pamoja Bid, representing Kenya, Uganda, and Tanzania, emerged victorious, securing the prestigious honour of hosting the 2027 AFCON.
"I take this earliest opportunity to congratulate the three East African countries Kenya, Uganda, and Tanzania for winning their joint bid to host the 2027 Africa Cup of Nations," said Nyamweya in a signed statement, adding: "It is a momentous victory for the region that has yearned to host the competition but has failed over the years.
Read Also: BREAKING: Kenya, Uganda and Tanzania to host AFCON 2027
"A big thank you goes to the CAF President Patrice Motsepe for showing confidence in this region. At the same time I want to thank the Kenya government and the Ministry of Sports led by Ababu Namwamba for their commitment towards having the joint bid."
Nyamweya further explained why he was elated with the latest development: "Personally, I feel elated by the victory because I have been pushing to have a continental tournament hosted in Kenya. While serving as the president of Foot all Kenya Federation, I spearheaded the bid to host the Africa Nations Championship and while Kenya won the bid, we unfortunately could not host the competition due to poor infrastructure."
He continued: "I have continued to use my connections to pursue CAF to give Kenya another chance and I am happy we have succeeded. But this success is just the beginning of a long journey before we have the tournament played here. As a country we must now take stock of the reasons we failed to host the competition in 1996 when we first won the bid and the 2016 CHAN."
He however warned against complacency from those involved saying CAF will never hesitate to take the rights away. "We should not make the same mistake we did in the past when the rights were taken away due to our failures. The governments of Kenya, Uganda, and Tanzania must now work hard to ensure the right infrastructure is put in place within the timelines given by CAF," he said, adding: "Given it is a joint bid, the three countries must set up joint working committees and walk together to the end. It will be a shame if we fail one more time."
The East African bid, known as 'Pamoja,' was submitted to CAF on the deadline day and received by CAF General Secretary Veron Mosengo-Omba in Cairo, Egypt.