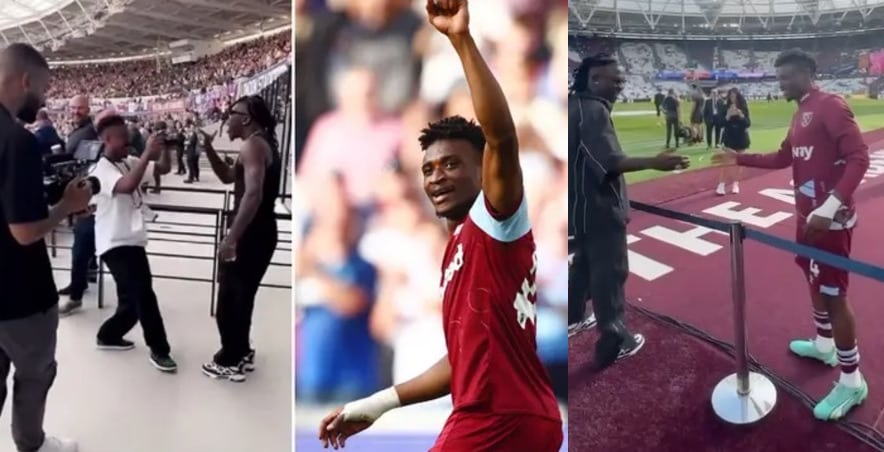 West Ham midfielder Moahmmed Kudus expressed delight after scoring his first Premier League goal with the Hammers and sent a special message for singer Stoneboy who was cheering for him during the encounter.
The 23-year old netted a dramatic equalizer in the money time for West Ham on Sunday against Newcastle (2-2) to help David Moyes' side avoid a defeat.
Speaking after the game, Kudus said he is happy with his first goal for the Hammers but is already hungry for more.
The former Ajax Amsterdam star also thanked Stoneboy who is his friend for his support and prediction even though he did not scored a brace as predicted by the Ghanaian dancehall king.
Read more : Tomáš Souček praises Kudus after his first league goal
"It feels very good to score that goal, of course," Mo Kudus after the game
"Most importantly it made a difference for the team, which was us getting a point.
"Even though we wanted the three points, I was happy to score my first [Premier League] goal and it was important that we got a point out of it.
"Stonebwoy actually said I would score two goals and I scored one of them so he brought the luck to the stadium today!" he continued.
"It was great to celebrate with our amazing fans. When we were down 2-1 and I was on the bench we could still feel the support and the energy from the fans, so thank you to them for that.
"I think it uplifted the players' energy a lot. It was a great atmosphere today, everyone gave their best so we take the point we gained from it.
"I feel there is a lot under my belt coming but definitely the team, the coaches and everyone around helped me to settle in and it feels like a family already, and the fans have been amazing as well. So credit to everyone around the whole team for helping me settle quite well. I'm still learning and I feel there is more for me to give."