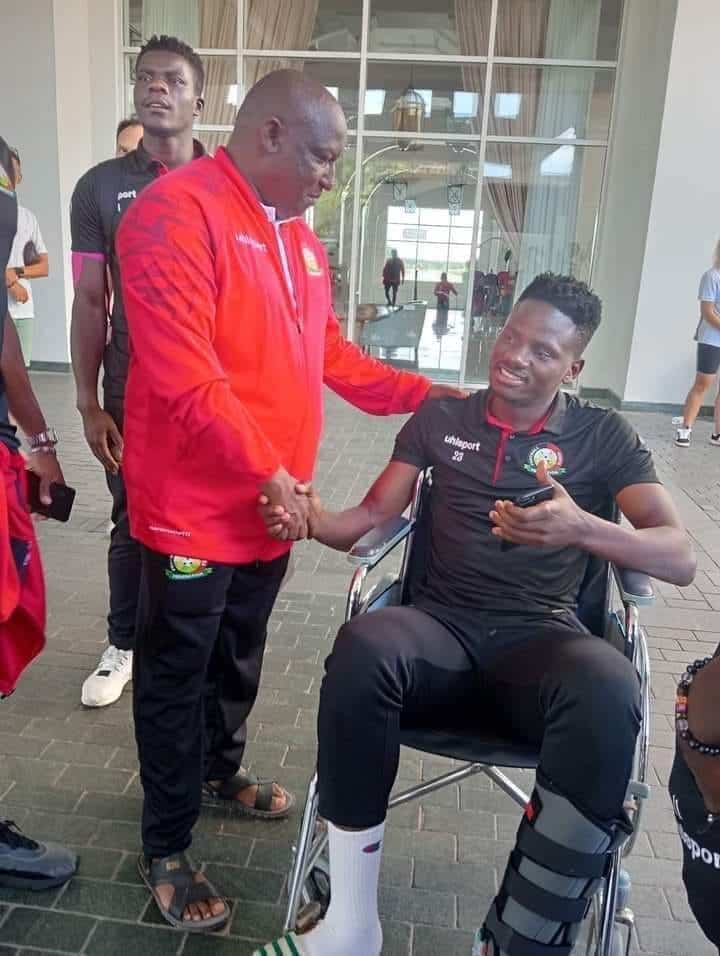 Harambee Stars goalkeeper Bryne Omondi will be out of action for two months after suffering an ankle injury during Monday's friendly match between Kenya and Russia in Antalya, Turkey.
The KCB shot-stopper picked a knee injury while making a save with Kenya trailing 1-0 and he was subsequently replaced in the 13th minute by Kenya Police's Patrick Matasi. Kenya under Engin Firat went on to force a 2-2 draw with goals from Anthony Akumu and Masoud Juma.
A source within Harambee Stars has confirmed to People Sports that Omondi, who has been impressive for the Bankers in the FKF Premier League this season, fractured his right knee and will thus not be available for Kenya's World Cup qualifiers against Gabon and Seychelles set for November.
"He fell awkwardly while trying to make a save and twisted his ankle and he will now miss action for the next two months to recover," the source told People Sports, adding: "The injury will consequently rule him out of next month's World Cup qualifiers against Gabon and Seychelles."
After the friendly against Russia, coach Firat described losing keeper Omondi in the early stages of the game as a huge setback to his plans for the game. "The setback is that our goalkeeper Bryan (Omondi) got injured, this is the biggest problem we had but the rest of the game I think we controlled, we had a lot of goal chances but it is football as last-minute Russia scored but from the way we played we could have won the game," explained Firat.
Meanwhile, the 53-year-old Firat praised the performance of Gor Mahia right-back Rooney Onyango, who was making his first appearance for the national team. Onyango featured at the back and according to Firat, the young defender has the potential to get even better.
"As I said always if somebody is working well really deserves to play and this is what happened with Rooney, he is not somebody being pushed by the media or some people, no, he is a footballer, he is concentrating on football, he is a player who has got the potential and is ready to work on it," said Firat.
Kenya will now shift their focus to the World Cup qualifiers where they are pooled in Group F alongside Ivory Coast, Seychelles, Burundi, Gambia, and Gabon. They will kick off their campaign with an away game against the Panthers of Gabon on November 13.