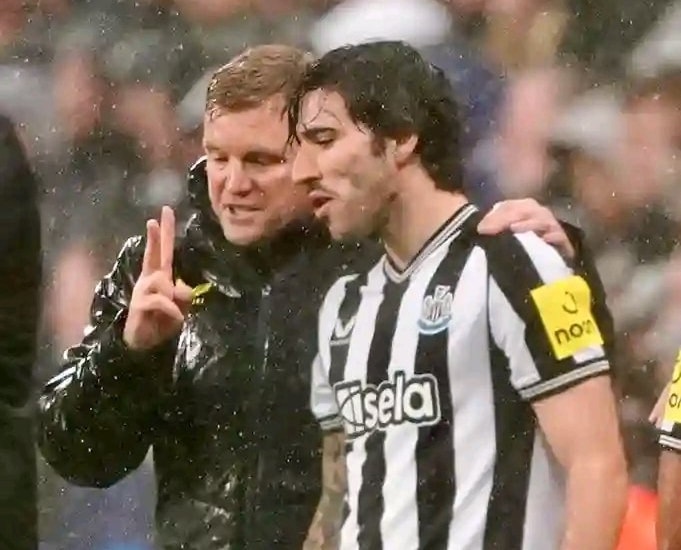 Manager Eddie Howe stated on Friday, prior to the Premier League match at Wolverhampton Wanderers, that Sandro Tonali might be available for Newcastle United this weekend despite receiving a 10-month ban for breaking Italian betting regulations.
The 18-month punishment for midfielder Tonali was announced on Thursday by the chairman of the Italian Football Federation (FIGC), eight of which will be substituted with alternative therapy.
"It's difficult because we haven't had that official confirmation as a football club yet," Howe told reporters on Friday.
"We've heard the news and speculation statement, but we haven't had anything from the Italian authorities at the moment so we're in limbo really waiting for that official confirmation.
"There's a high chance he could be available for us. There has to be a few things that have to happen before the ban is imposed so let's see."
Newcastle, who acquired the international player from Milan in July for an alleged 70 million euros ($74 million), a record amount for an Italian player, is severely hurt by Tonali's ban.
Howe claimed that when Newcastle signed him, they were unaware of any possible betting violations.
"You make a decision at the time with the knowledge you have," Howe said.
"We really liked him as a footballer and had no idea that this was even a possibility.
"Of course, there's a frustration and a disappointment that we're not going to have a quality player for a period of time."
Tonali entered the game as a substitute during Wednesday's 1-0 Champions League home loss for Newcastle against Borussia Dortmund.
The injuries to strikers Jacob Murphy and Alexander Isak, who will miss the Wolves game, compounded the setback.
"Very different injuries, Alex is a groin which we don't think is serious but it's a recurrence of the groin injury he suffered playing for Sweden so we need to assess that," Howe said.
"Jacob's is totally different it's dislocation of his shoulder. It's not clear what we're going to do and I think he's going to see a specialist today.
" You can play with these injuries or the other side is he needs an operation and he'll be out for some time."
Defender Sven Botman and midfielder Elliot Anderson are also sidelined due to injuries, and Harvey Barnes' foot injury will keep him out until the new year.
"Unfortunately we're missing Harvey (Barnes), Elliot, Alex now and suddenly with Jacob we look a bit stretched."