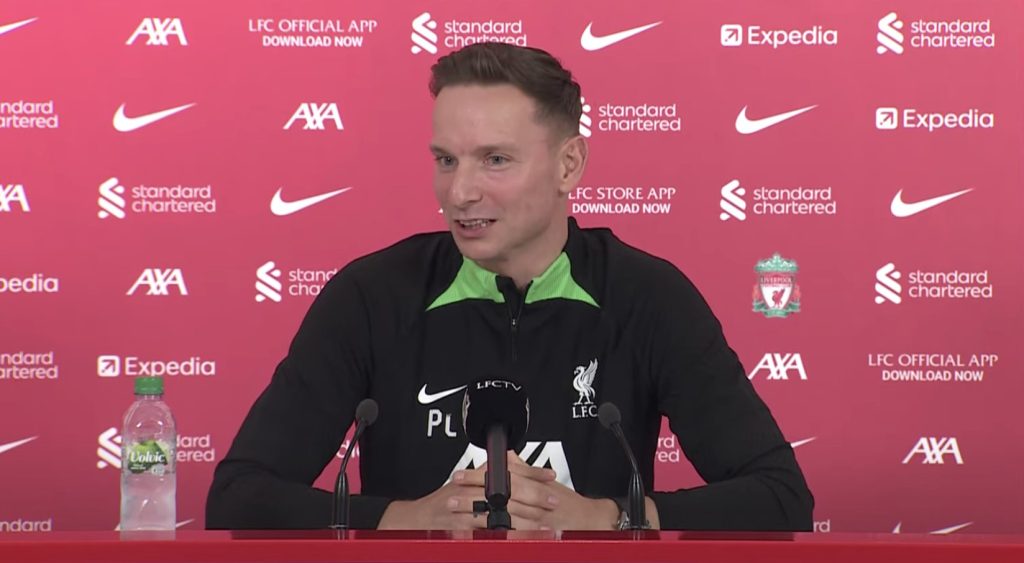 Assistant manager Pep Lijnders stated that Thiago Alcantara will not be available for Wednesday's League Cup match against Bournemouth.
He also mentioned that Luis Diaz is on the club's mind following the kidnapping of his parents in Colombia on Saturday.
The club honoured Diaz, who was absent from Sunday's 3-0 home victory over Nottingham Forest, by raising the forward's No. 7 shirt in the air when Jota scored the game's opening goal.
Colombian authorities are still looking for Diaz's father, who was abducted, despite the fact that Diaz's mother has been found.
"Lucho (Diaz) is an incredible player and we knew that.
"But then you see him in the building and he's the person who always smiles so we really care about him," Lijnders told reporters on Tuesday.
"We try to support him now as much as we can – a lot of things out of our hands
"Lucho is one of us. Putting the shirt up for him was a nice gesture – he knows we are here for him," Lijnders added.
"How the stadium reacted was special as well – whole fanbase is behind him. Our motto is 'You'll Never Walk Alone.'"
The 32-year-old Thiago's hip injury, which has kept him out of action since April, is still preventing him from fully training with Liverpool's first team.
"We miss Thiago I have to say, I miss him a lot," said Lijnders. "Can you imagine our midfield, our new players, then they have Thiago Alcantara in the middle as well? Guiding the others, his experience, the way he passes, the way he moves
Liverpool fell to Manchester City in the fourth round of the 2018–19 League Cup, despite having won a record nine of them.
In the third round last month, they triumphed 3-1 over Leicester City, and Bournemouth overcame Stoke City 2-0.
After ten games, Klopp's team has 23 points in the Premier League, three points behind leaders Tottenham Hotspur.
Bournemouth is one point above the relegation zone in 17th place.