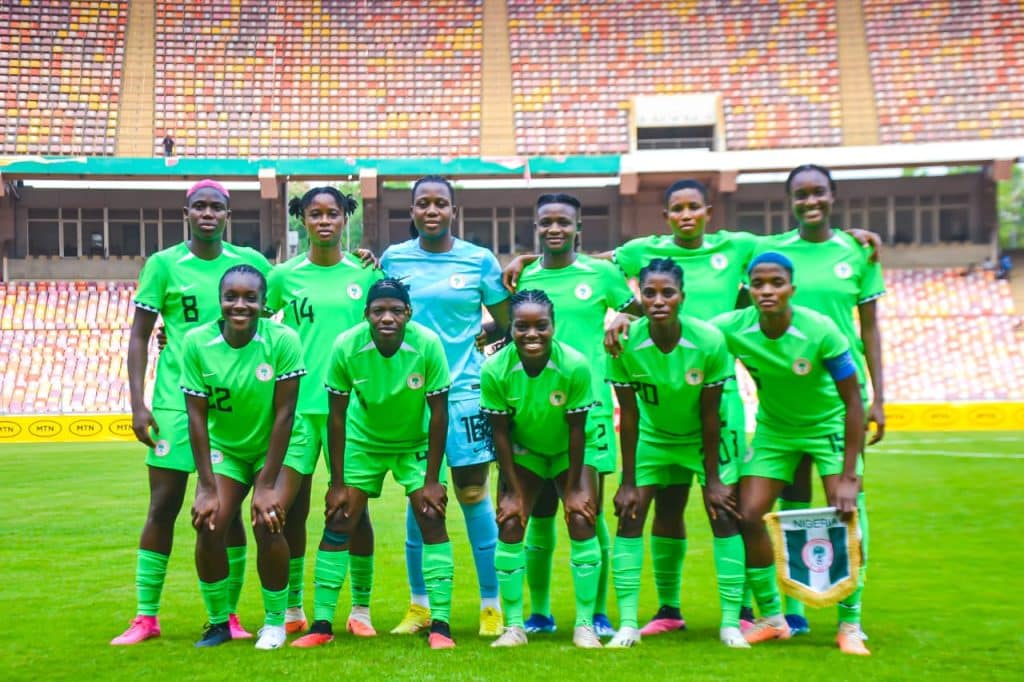 The Indomitable Lionesses of Cameroon will next play against the Super Falcons, nine-time African champions.
Uchenna Kanu missed a six-yard attempt and Oshoala squandered a few opportunities in a relatively dull first half.
Goalie Chiamaka Nnadozie also denied a shot from Kalsa Aregash, while captain Loza Abera had an unsuccessful attempt to slot above Nnadozie from a 20-yard free kick.
Oluwatosin Demehin sent a long ball forward just before Togoan referee Edoh Kindidje blew for halftime.
Kanu, who scored Nigeria's first goal at the FIFA Women's World Cup finals in the summer, easily beat two defenders by watching the ball's bounce and then dashed to slot past keeper Tarikua Bergena.
The second goal of Nigeria was scored by captain Ajibade five minutes into the second half, about six days after she scored the equaliser for her country in Addis Ababa.
Oshoala's cross found its way into the goal as the Barcelona Feminine striker ducked under two defenders on the right.
Oshoala became the game's first scorer in the 68th minute when she lifted herself up to meet Kanu's calculated pull-out from the left with a close-range header that rendered Bergena completely useless.
After another cross from Oshoala, four minutes later, Ajibade, slender, sparse, and dangerous as usual, crept in to bundle the ball past Bergena.
The visitors, now overpowered, attempted to limit the damage, but it was not to be.
Ajibade, a player based in Spain, fired from 27 yards that went just wide of the mark, almost earning her hat-trick on the stroke of midnight.
With their win, the Super Falcons will now play the Indomitable Lionesses of Cameroon, who on Tuesday night in Yaounde defeated Uganda 3-0 after extra time, having previously lost 2-0 in Kampala.