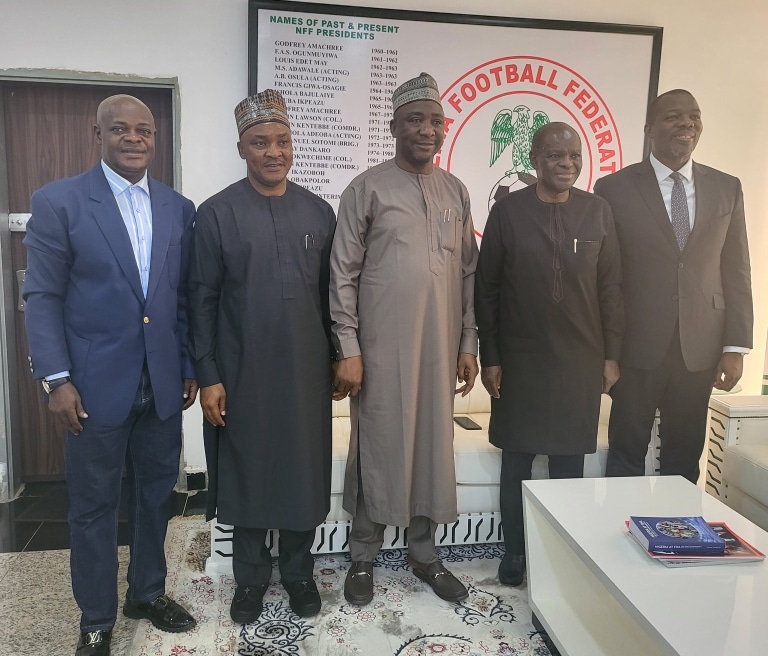 Three-time champions Nigeria are prepared to give the campaign their best shot when the 34th Africa Cup of Nations gets underway in Cote d'Ivoire on January 13, 2024, according to President of the Nigeria Football Federation Alhaji Ibrahim Musa Gusau.
40 years after the nation hosted the competition's 14th edition in 1984, the Cote d'Ivoirean ambassador to Nigeria, His Excellency Kalilou Traore, Gusau, spoke during an audience at the NFF Secretariat and commended the government for the significant investments made in stadium construction and related infrastructure.
"I have been receiving regular briefings on the preparations from the President of Cote d'Ivoire Football Federation, Yacine Idriss Diallo, who is a personal friend.
"I am aware that the Government of Cote d'Ivoire has invested in stadiums and general infrastructure to make the AFCON a success and a huge spectacle.
"Our two teams (Super Eagles and Elephants) are in the same group at the finals, and it would be a very interesting game when we play on 18th January.
"We know the whole of Africa and even the world will be focused on Cote d'Ivoire before, during, and after the AFCON, and our team will be ready to do its best.
"When Cote d'Ivoire hosted the AFCON in 1984, our Eagles finished second.
"This time, we will work very hard to emerge as champions."
Prior to this, Ambassador Traore congratulated the NFF on Nigeria's inclusion among the 24 participating countries in the 2018 AFCON.
He also took this opportunity to extend an invitation to the NFF leadership to attend the Ivorian National Day celebration, which would take place at the Cote d'Ivoire Embassy on Friday, November 17.
"We want the NFF to be part of the event.
"The Ivorian National Day is usually celebrated in August, but it was postponed this year because of the death of our former President, Dr. Henri Konan Bedie.
" We also want to use the opportunity to launch a promotional program ahead of the AFCON, which our country is hosting early next year."
H.E. Ali Silas Agara, a member of the NFF Executive Committee, Dr. Mohammed Sanusi, the NFF General Secretary, Ademola Olajire, Cisse Karim, the NFF Chief Protocol Officer, and Cisse Karim, the Office of First Counsellor at the Ivorian embassy, were also present at the event.