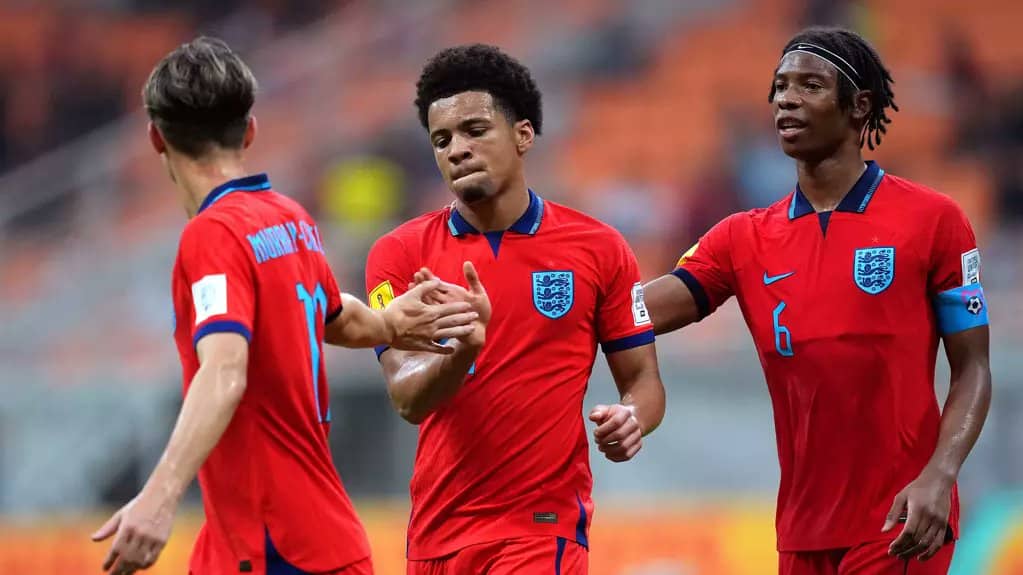 At Jakarta International Stadium on Saturday, England's resounding victory over New Caledonia marked their biggest-ever FIFA U-17 World Cup triumph.
The Young Lions took the lead 15 minutes in from the penalty spot, dominating the game from the start.
Following a foul on Myles Lewis-Skelly by New Caledonia attacker Jean-Philippe Angexetine, Reiss Denny calmly tapped home from 12 yards.
Shortly after, Tyler Dibling's great work set up Justin Oboavwoduo for a close-range score, making it 2-0. Afterwards, Dibling quickscored for himself after making a daring run into the box and blasting past Nicolas Kutran in the New Caledonia goal.
England's fourth came on the stroke of half-time when Josh-Kofi Acheampong headed in from a corner. Ryan Garry's team did not let up and Sam Amo-Ameyaw's precision low drive made it 5-0 shortly after the break. Oboavwoduo then displayed impressive composure to slot his second and his team's sixth.
The seventh goal was the pick of the bunch, with substitute Ethan Nwaneri curling a sumptuous effort into the top corner from 20 yards. Michael Golding's shot then deflected off the unfortunate Wadria Hanye and left Kutran with no chance, before Harrison Murray-Campbell netted with a fine header. Finley McAllister wrapped up the scoring with a well-struck shot in stoppage time.
The 10-0 success eclipses England's previous biggest win at the tournament, which was was a 5-0 win over another OFC nation – New Zealand – in 2007.